'How can you be friends with someone you've never met?' – Putin on Trump relationship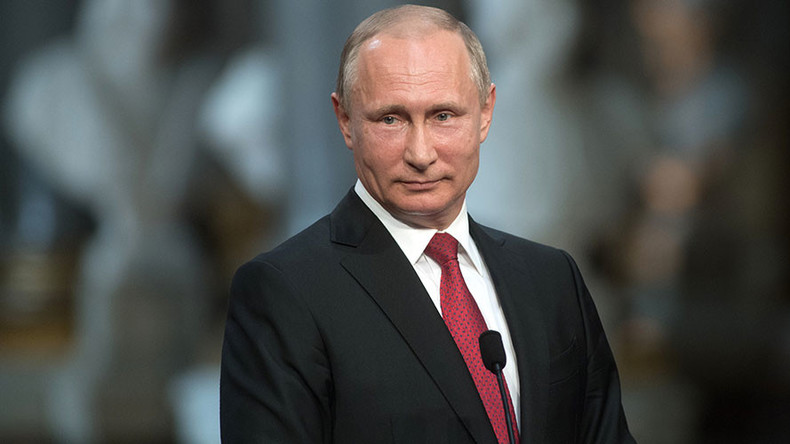 Russian President Vladimir Putin said that he is not "friends" with Donald Trump, as they are not even acquainted, adding that he only hopes to build a constructive working and personal relationship with his US counterpart.
Putin was asked about his alleged friendship with Trump during a meeting with the heads of international news agencies at the 21st International Economic Forum in St. Petersburg on Thursday.
"How can one be friends with a person he's not acquainted with? I think Mr. Trump can't call me his friend and I can't do it as well. We're not acquainted with each other. We've never met," the Russian president said.
Putin added that he generally likes the type of people that Trump represents, saying that he believes the US counterpart to be a "straightforward, frank person."

"He can't be regarded as a traditional politician. He never worked in politics," Putin said, calling the chance to have "fresh look at things" one of Trump's main advantages.

"Whether someone likes it or not, this always… very often brings certain benefits," the Russian president said.

Putin recalled that, during his presidential campaign, Trump repeatedly spoke about the need to restore meaningful relations between Washington and Moscow. Putin said, "We're ready for such dialogue with the US president."
However, he said that there's no certainty about how things will turn out between the two countries because an "internal struggle continues in the US, which prevents building relations" in many key areas.
The Russian president also refused to give advice on dealing with bureaucracy to his counterpart, saying that "a man like Mr. Trump doesn't need any advice, especially on domestic political issues."

"In general, giving advice to your colleagues is always counterproductive" as it provides an opportunity to put the blame on someone else in case of failure, he added.

Putin said would want to have a "normal business and personal relationship" with Trump, just like with other world leaders.

The meeting between Putin and Trump has been anticipated since the 45th US president took office on January 20.
During their phone conversation in May, the two leaders spoke in favor of finally getting together somewhere around the G20 summit, which will take place in Hamburg, Germany, on July 7 and 8.
READ MORE: Putin-Trump meeting must bring specific results, not just symbolic handshake – Lavrov
Trump's statements on the need for better relations with Moscow led to accusations that he has been friends with Putin and had secretly colluded with the Russian authorities to win the US presidential election.
The claims were denied by both Russia and the Trump team. However, the US president's administration is currently under Congressional investigation over alleged ties with Russia.