Putin undecided on what melody to play for Trump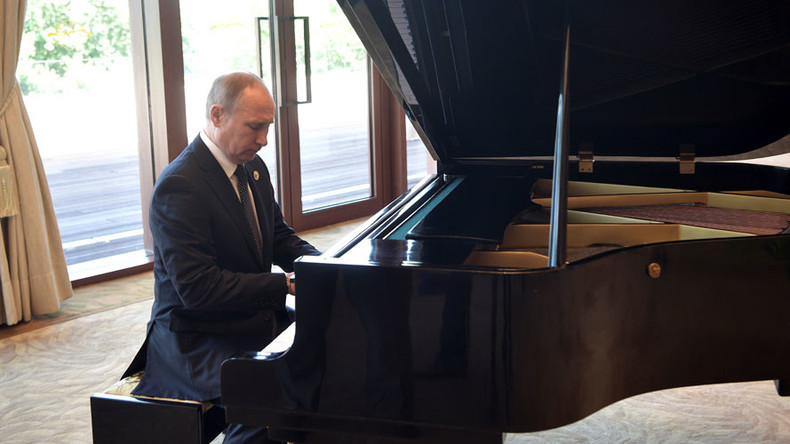 Vladimir Putin said he hasn't decided what to play for his US counterpart, Donald Trump, when the two finally meet. The Russian President was asked after being filmed playing the piano in China over the weekend.
"I don't know. I think first we need to get together, discuss things, and choose the melody in accordance with the results," Putin told journalists at a press conference in Beijing after the conclusion of 'One Belt, One Road' international forum.
The Russian president was filmed playing the piano at the official Chinese presidential residence as he was awaiting a meeting with Xi Jinping on Sunday.
Putin performed the unofficial anthems of Russia's capital, Moscow, Moskovskie Okna, and his home city of Saint Petersburg, Gorod nad Volnoy Nevoy.
READ MORE: Virtuoso-in-chief: Putin plays anthems of Russia's capitals during intl forum in China (VIDEO)
"It's a pity the piano was badly out of tune. It was pretty hard to play, even for me, and I just play with two fingers," Putin said, as cited by Interfax.
"I can't even say that I was performing, I was just pressing keys as I waited for our friend and partner (President Xi)," he added.
The Russian leader said that, although he saw Kremlin Press Secretary Dmitry Pesko filming him play, he thought the footage was for "personal consumption, for the archive."
"But it's no problem" that the video was posted online, he said, adding: "I think I didn't let you down."
It wasn't the first time Putin has demonstrated his love of music for the public. Last January, he helped a shy student at Moscow State University finish singing a Soviet song about space exploration.
In 2010, while serving as prime minister, Putin famously took to the stage at a charity event where he sat at a piano and played the beginning of Blueberry Hill and then sang the song in English before an audience packed with international celebrities, including Kevin Costner, Mickey Rourke, and Sharon Stone.
During their phone conversation earlier in May, Putin and Trump spoke in favor of holding their much anticipated first meeting somewhere around the G20 summit, which is scheduled to take place in Hamburg, Germany, on July 7 and 8.