Virtuoso-in-chief: Putin plays anthems of Russia's capitals during intl forum in China (VIDEO)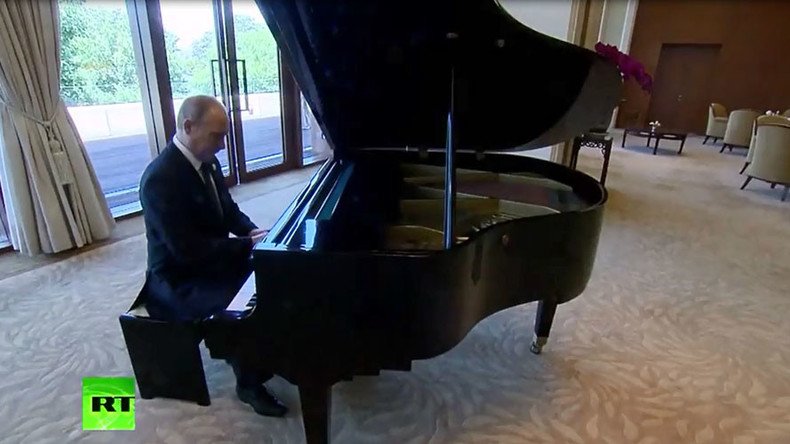 Russia's president didn't fritter away his time ahead of a meeting with his Chinese counterpart at a high-profile forum in Beijing. Known for his keen interest in music, Vladimir Putin played the unofficial anthems of Moscow and St. Petersburg on a piano.
When Putin arrived at the official residence of Chinese President Xi Jinping, he was apparently so captivated by a black grand piano that he immediately sat down at the instrument. First, he played Moskovskie Okna (Moscow Windows), which is considered the Russian capital's unofficial anthem.
A while later, he performed the unofficial anthem of his native city – Leningrad (now St. Petersburg).
The Russian leader showed off his virtuosity during the international 'One Belt, One Road' forum in Beijing. The event has brought together numerous heads of state and government, along with their top aids and the representatives of global financial organizations.
READ MORE: Belt & Road: China welcomes heads of state, intl bodies at global cooperation forum
As one of the forum's keynote speakers, Putin called for the construction of transport corridors and the creation of large-scale energy projects.
The "civilization project for the future," as Putin called the New Silk Road, should bring stability and prosperity along its way.
This is not the first time Russia's president has surprised audiences with his musical skills. In January of this year during a meeting with students at Moscow State University, he sang along to the tune of a Soviet song '14 Minutes till Launch', which celebrates the USSR's achievements in space.
In 2010, while serving as prime minister, Putin famously took to the stage at a charity event where he sat at a piano and played the beginning of Blueberry Hill before an audience packed with international celebrities, including Kevin Costner, Mickey Rourke, and Sharon Stone. A while later, he even sang the song in English.
You can share this story on social media: