Boeing attempts to block Bombardier from muscling into US market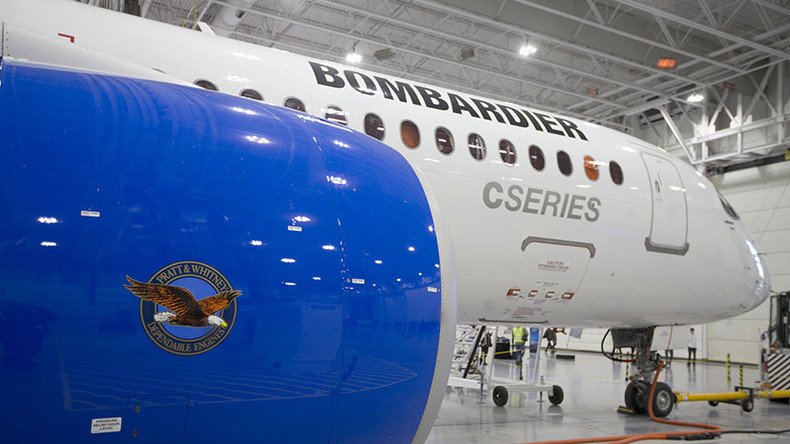 The decision of US aerospace giant Boeing to lodge a trade complaint against Canadian rival Bombardier could threaten its sale of F/A-18 warplanes to Ottawa; analysts told Reuters.
Boeing and Canada are in talks over the purchase of 18 Super Hornet fighters this year or in early 2018.
Last week the US Commerce Department started investigating Boeing's claims the Canadian plane maker dumped CSeries jetliners on the US market below cost.
Bombardier's 110-130 seat CSeries is aimed at the regional jet market, and the company sees North America as by far the largest single market for its jets.
In its petition, Boeing said Bombardier, determined to win a key order from Delta Air Lines, had offered its planes to the airline at an "absurdly low" $19.6 million each.
According to Boeing, the sum is well below what it described as the aircraft's production cost of $33.2 million. Bombardier has rejected the allegation.
Following the investigation, the Canadian government suggested it could scrap plans to buy Boeing fighter jets if a United States court ruled against Bombardier.
READ MORE: New Russian airliner set to take on Airbus and Boeing
Some analysts accuse Boeing of carelessly putting at risk billions of dollars of defense work or pandering to growing protectionism.
Others say decades after Boeing failed to prevent European upstart Airbus from gaining momentum with early sales victories in the United States. The company could now see a second rival entering its domestic market if it underestimates the threat again.
They add that the strategic importance of defending Boeing's core passenger jet business outweighs the diplomatic storm.
"It's a crucial entry market," said a person familiar with Boeing's strategy in taking on Bombardier. "This is the case Boeing might have brought against Airbus 40 years ago. Not taking action at the start led to consequences."
Boeing is currently before the World Trade Organization with a long-running dispute with Airbus, accusing the company of benefiting from similar "unfair" government subsidies.
Bombardier is "taking a page out of the Airbus strategy book" by trying to muscle into the US market with cut-rate pricing, Boeing said in the petition.
Analysts say the disagreement between Boeing and Bombardier could worsen already strained US-Canadian trade relations.
You can share this story on social media: