New Russian airliner set to take on Airbus and Boeing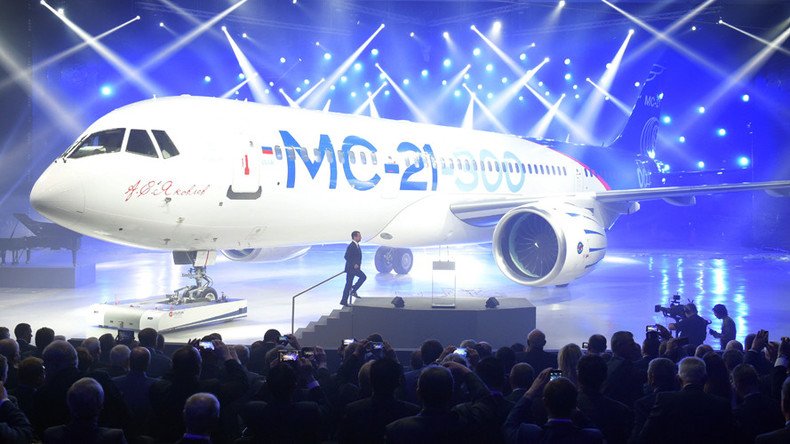 Russia's МС-21 jet has left the assembly line at the Irkutsk aviation plant and is being prepared for its maiden flight, Izvestia daily reports.
Developed by the Irkut Division of the United Aircraft Corporation (UAC) group, the aircraft left the assembly plant on April 28, according to the newspaper. Russian Deputy Prime Minister Dmitry Rogozin has said the test flight is scheduled this month.
"This is a fundamentally important event for any aircraft. There is no doubt that the first flight will take place. The only question is whether the aircraft will meet the calculated characteristics. The test flight will show that ," aviation expert Aleksey Sinitsky told Izvestia.
The Irkut MC-21 is a twin-engine short- to mid-range jet airliner with a capacity of 150–212 passengers. The plane is intended to compete with the Airbus A320 and Boeing 737 MAX and replace the remaining Soviet-era Yakovlev Yak-42, Tupolev Tu-134, Tupolev Tu-154, and Tupolev Tu-204/214 airliners.
The first operator of MC-21 aircraft will be Russia's largest carrier Aeroflot. Delivery of 50 aircraft is expected to start in late 2018, or early 2019.
The UAC intends to sell the jets to areas that have traditionally bought Russian jets - India, China, Southeast Asia and Latin America.
The developers claim that MC-21 will be faster and cheaper than the Boeing 737 and Airbus A320. The Russian jet will have a cruising speed of 870 kilometers per hour, while the competitors reach only 842 and 828 kph. Costing up to $85 million, MC-21 will have a significantly lower list price than its competitors.
You can share this story on social media: