Fitch no longer thinks Trump poses threat to global economy
Published time: 12 Apr, 2017 10:29
Edited time: 12 Apr, 2017 10:34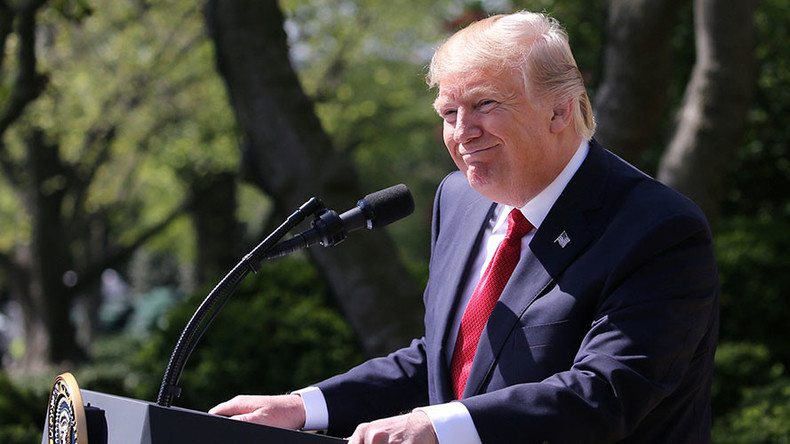 In a new report, the Fitch rating agency has drastically changed its mind on the impact of US President Donald Trump's policies on the country's domestic growth and the world economy as a whole.
Fitch's mostly enthusiastic report on US internal finances reaffirmed the country's excellent AAA credit rating and raised the outlook for GDP growth.
According to the agency, the US economy will grow at 2.3 percent this year and 2.6 percent in 2018. The figure is well above the 1.6 percent average growth rate under President Obama.
The outlook changes are partially attributed to the pro-growth Trump agenda, according to Fitch.
"The new administration's focus on deregulation and tax cuts has spurred higher business confidence and would be positive for growth if carried through. Tax cuts are unlikely to generate a lasting and substantial boost to growth, in Fitch's view," the agency's analysts said in a report for clients, as quoted by CNBC.
Just two months ago, Fitch warned the President Trump's plans might put global economic stability in jeopardy, saying the budding administration "presents a risk to international economic conditions and global sovereign credit fundamentals."
READ MORE: Trump & el-Sisi praise each other, promise 'strong support' for battling terrorism
At the time, Fitch assured that the disruptions could pose credit downgrade threats to Washington's trading partners, though the agency conceded that "a lot can change."
Most of the concerns raised by Fitch were reportedly tied to Trump's plans to establish a protectionist policy with tariffs and border taxes, which could spark an international trade war.
READ MORE: Beijing may offer concessions to avoid trade war with Washington
"Increased trade protectionism and curbs on immigration would be negative for growth over the medium-term," the analysts said in the latest report, adding that they didn't expect a future downgrade of US debt.
Despite the largely positive report, Fitch issued some cautionary warnings, pointing out that the US sovereign debt was approaching dangerous levels.