Trump & el-Sisi praise each other, promise 'strong support' for battling terrorism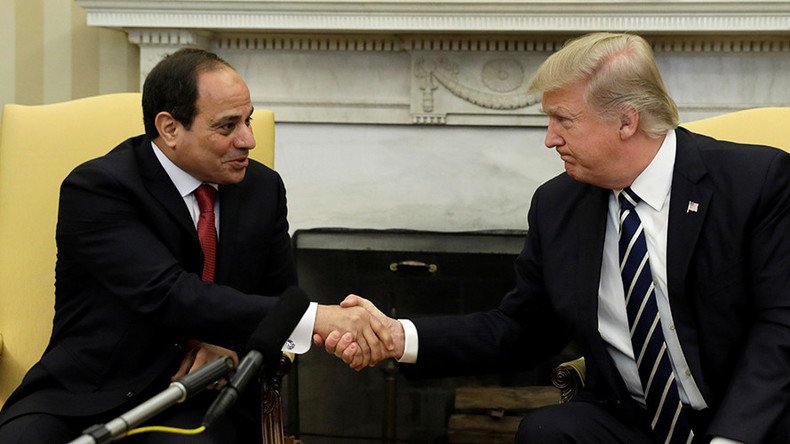 US President Donald Trump praised Egyptian President Abdel Fattah el-Sisi during a meeting in the White House, saying that el-Sisi is doing "a fantastic job." He also promoted the United States' military buildup as "probably more than ever before."
"We agree on so many things," Trump said of el-Sisi during a photo-op in the Oval Office. "I just want to let everybody know, in case there was any doubt that we are very much behind President el-Sisi."
"He's done a fantastic job in a very difficult situation," Trump continued. "We are very much behind Egypt and the people of Egypt, and the United States has, believe me, backing and we have strong backing."
El-Sisi thanked Trump for the invitation, noting it was the first state visit for an Egyptian president in eight years. President Barack Obama refused to host el-Sisi because he came to power in a 2013 military coup, and his administration repeatedly admonished Egypt's human rights record under el-Sisi.
Trump and el-Sisi initially met in New York in September on the sidelines of the UN General Assembly, when Trump was then running for president as the Republican nominee. At the time, the billionaire businessman praised the "good chemistry" he had with the Egyptian leader.
On Monday, el-Sisi expressed "a deep appreciation and admiration" for Trump's "unique personality," and praised the US president as "very strong in the counterterrorism field." He added that Egypt will "always be beside you" to "counter this evil ideology that is claiming innocent lives, that is bringing devastation to communities and nations, and that is terrorizing the innocent people."
"You'll find me supporting you very strongly and very earnestly in finding a solution to the problem of the century, and I'm quite confident that you'll be able to bring a solution to this issue," the Egyptian president added.
Critics had called on Trump to raise concerns about the jailing of Egyptian political protesters, even though the American president has long praised el-Sisi's actions, especially regarding the Egyptian's hardline stance against radical Islamic terrorism in his country.
"He took control of Egypt. And he really took control of it," Trump told Fox Business Network in September.
El-Sisi's visit drew protests. On Sunday, a group of demonstrators gathered at the Washington Monument, a few blocks away from the White House. Critics contend that el-Sisi's battle against the Muslim Brotherhood, which he says is a terrorist organization, and Islamic State is really just an excuse to jail political dissidents.
"We're giving $1.5 billion to an autocrat who has killed thousands of people, who has imprisoned tens of thousands of people, including Americans," Mohamed Soltan, an American who was jailed in Egypt for nearly two years, told Al Jazeera. "We're here to shed light on their plight."
After the photo-op in the Oval Office, Trump and el-Sisi held a meeting in the White House Cabinet Room, where the US president said that he and the Egyptian leader "have many things in common" and "a few things we don't agree on."
One of those things is the 2014 arrest of American Aya Hijazi and her husband Mohammed Hassanein in Egypt while running a foundation to help street children. Egyptian authorities accuse Hijazi of abusing the children under her care.
The US briefly suspended its economic and military aid to Egypt after el-Sisi's coup, but reinstated the $1.3 billion in funding in 2015.
You can share this story on social media: