Donald Trump just became one billion dollars poorer, according to Forbes
Published time: 21 Mar, 2017 10:58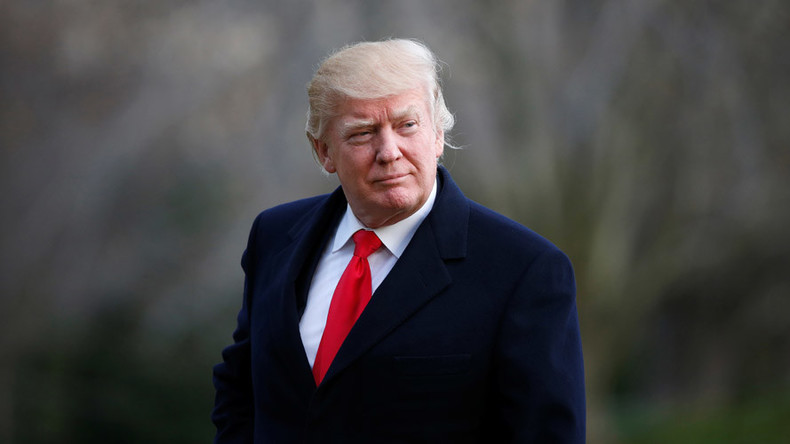 The personal fortune of US President Donald Trump has decreased by $1 billion since last March, dragging the billionaire 220 places lower in the Forbes Rich List.
Trump's estimated net worth has fallen to $3.5 billion from $4.5 billion a year ago, according to the magazine's latest ranking published on Monday. As a result, the president is now 544th on the list.
Much of the decline in Trump's finances is caused by the softness in the midtown Manhattan real estate market, according to Forbes.
"Forty percent of Donald Trump's fortune is tied up in Trump Tower and eight buildings within one mile of it. What happens in that micro-market does more to affect the net worth of Donald Trump than anything else in the world. Lately, the neighborhood has been struggling," the magazine said.
Along with that, Trump spent $66 million on the presidential campaign and paid $25 million to settle a lawsuit related to Trump University.
Donald Trump had previously disputed the estimates presented by Forbes, particularly concerning the worth of his brand that is much harder to value compared to real estate.
"As we wrote in our cover story on the president's net worth 18 months ago, Donald Trump has been trying to spin his Forbes valuation for more than three decades. In the early years, editors even joked about the 'Trump rule' - take what he claims and divide by three," said Randall Lane, editor of Forbes Magazine, as quoted by the Washington Post.
According to its methodology, the magazine values assets using stock prices and international exchange rates, basing on the so-called snapshot of wealth taken at the end of February.
READ MORE: Goldman Sachs bans employee donations to Trump's election campaign, but Clinton not subject to rule
"Every year Forbes goes through his assets line by line, speaking with dozens of experts about market values, and hearing out Trump and his team. We do not give any credit for 'brand value' to Trump or Oprah or any other person on our list - we feel a person's brand value is already reflected in the income and value of the deals they cut. And we are very comfortable with our estimates for Trump's tangible holdings, which also factor in things like debt and partnerships, as well as current market conditions," the editor stressed.
The Forbes list is led by Microsoft founder Bill Gates for the fourth consecutive year with an estimated fortune of $86 billion, $11 billion more than last year. The second spot was taken by American investor Warren Buffett, with a net worth of $75.6 billion, up from $60.8 billion in 2016. Amazon founder Jeff Bezos closes the top three thanks to a surge in his company's stock, which boosted his net worth to $72.8 billion.