Russia's VEB seals 'win-win' deal with Chinese state bank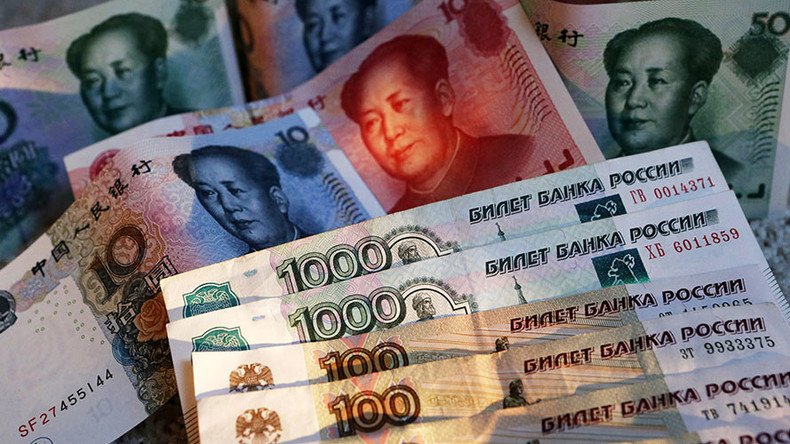 Russia's Vnesheconombank (VEB) has signed an agreement with China's Development Bank (CDB) to borrow nearly a billion dollars (six billion yuan). This is the first time a Russian state corporation has borrowed over 15 years, and was clinched in record time.
The deal was among those signed Monday in Saint Petersburg after Chinese Premier Li Keqiang held talks with his Russian counterpart Dmitry Medvedev.
RT spoke to VEB head Sergey Gorkov.
RT: VEB and China's Development Bank have a long history of financial cooperation. What's special about the deal and how was signed so quickly, as that's not typical for agreements with China?
Sergey Gorkov: A six billion yuan deal is a new page in relations with CDB. First of all, we have never borrowed money over such a long time; it is a 15-year loan. It is important to have it for the bank's development. Commercial banks usually lend short loans to implement quite long projects.
Unfortunately, short money is difficult to capitalize in that respect. For us 15-year money is very important.
The project suggests co-financing is a special way of cooperating with the bank, and a special way of joint participation in investment projects. We agreed to sign the deal just three weeks ago. That means the Chinese are also interested in partnership and cooperation. I'm sure the agreement will push the development of new projects in Russia's economy.
RT: What kind of projects will be financed with the loan? What sectors of Russia's economy are the Chinese interested in, when talking co-financing?
Sergey Gorkov: The VEB investment profile currently has 20 projects suitable for co-financing. What we will pick depends on arrangements with the Chinese. But the projects cannot be fully financed with the Beijing loan. The Chinese are interested in timber, agriculture, mining and nonferrous metal industries.
RT: You are pretty optimistic about VEB's cooperation with CDB. Can you say this deal is not the last not with China's Development Bank, but with the other Chinese lenders?
Sergey Gorkov: Now we have enough projects, but we'll be glad to see new ones. We are open to cooperation with China and hope that it's not the last deal. We have just opened that window. I think it is a good start.
RT: Foreign market insiders often note difficulties in working with the Chinese due to the closed economy or tough regulation. What can you say on the issue?
Sergey Gorkov: It's important not to be afraid and work. This year we have sealed agreements worth $2.5 billion. That's a substantial sum of investment. VEB has been cooperating with China Development Bank for more than ten years. CDB is a huge partner in the global context with assets of $1.9 trillion. Within the period, the Chinese lender has provided VEB with more than ten billion US dollars.
Moreover, in September, we sealed a unique deal with ten Chinese commercial and regional banks to raise up to 10 billion yuan ($1.50 billion) in a syndicated loan. No one has done this before.
The principal clue to successful work with Chinese partners is an obligatory "win-win" term, when both sides see the project as profitable.
RT: The yuan is a young currency in the IMF basket and quite volatile. How do you estimate prospects of its developing in the framework of Russian projects and in the global economy in general?
Sergey Gorkov: Despite the yuan being new, young and risky, it is developing. Like any other young currency, the yuan has some unique features. On the other hand, Chinese economy is growing by more than six percent. When we say China slows down, we have to realize that it slows down on such a big basis that it is more like a growth in volume terms than a slowdown.
The yuan entails risks from fluctuations, but in the long-term from the point of view of the economy and development, I think it's a promising currency. It's much more attractive than some European currencies, the Canadian or Australian dollar, as the volume of the Chinese economy is much larger.
All the risks connected to Chinese currencies are acceptable, as we use swap mechanism that let us mitigate the risks.
You can share this story on social media: