Russian oil production sets new post-Soviet record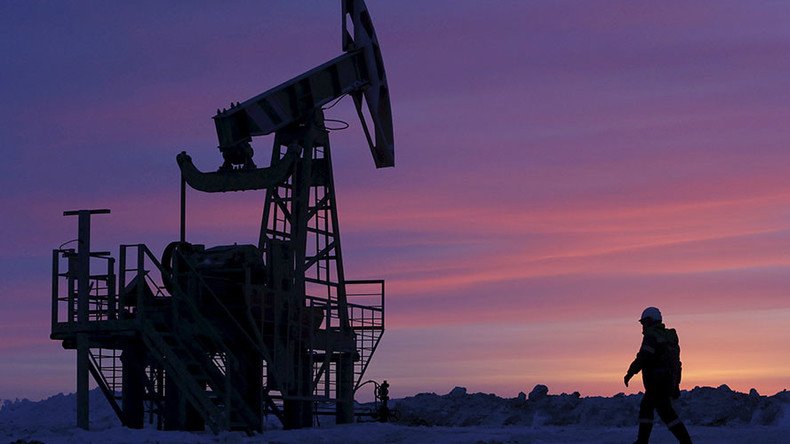 Average daily crude production in Russia rose 0.1 percent in October to 11.2 million barrels, breaking the post-Soviet record for the second consecutive month, according to data released by the energy ministry.
Russia pumped over 47 million tons of crude in October, 3.9 percent more than in the same period a year ago.
The report shows oil major Rosneft increased output by 0.1 percent, Lukoil production rose by 0.9 percent, while Surgutneftegaz cut its output by 0.3 percent.
READ MORE: Rosneft boss Sechin says Russia could raise oil output

Production was boosted by an increase in drilling as oil companies are trying to capitalize on a weaker ruble. Russian oil companies make most of their revenue in US dollars, while their domestic costs are in rubles.
"The pace of the growth in drilling has been maintained, at 16 percent for the nine months of the year, while Rosneft cranked up drilling at Samotlor oilfield by 40 percent and by 67 percent at Yugansk," said Valery Nesterov, analyst at Sberbank CIB, as quoted by Reuters.
The expert stressed that the government was in a predicament because of continued negotiations with other top producers on capping the output level to boost prices.
READ MORE: Oil prices slide with market less certain about OPEC's production deal

The energy ministry expects crude output to be 11 million barrels per day, or to 548 million tons next year as new oil fields are coming onstream.
Russia has the potential for growth by 2019 with a possible peak of up to 575 million tons due to investment made in the pre-sanctions period, according to Nesterov.
Earlier this year, Goldman Sachs' analysts predicted Russian oil production would climb to 11.65 million barrels a day over the next three years.
"We remain positive on Russian oil industry production. At current oil prices, Russian oils are among the few global majors that can maintain their growth plans and dividends," Goldman analyst told Bloomberg.
The Organization of the Petroleum Exporting Countries also increased supplies in October after Nigeria and Libya managed to partially recover from disruptions, and Iraq boosted exports.
You can share this story on social media: