Russia's oil industry is making the most of a weak ruble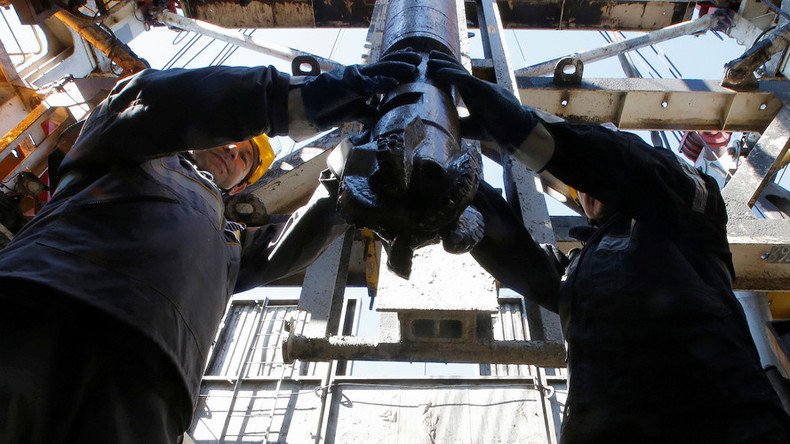 While Russian federal revenue from oil and natural gas production has declined significantly in response to low oil prices, oil and natural gas companies have actually increased investments or only seen modest declines, according to the EIA.
In ruble terms, the Brent price has actually increased by 40 percent from 2010 levels, while decreasing in dollar terms by 40 percent. This was due to the rapid devaluation of the ruble due to international sanctions and lower oil prices.
The favorable conversion from petrodollars to rubles has also made it cheaper for Russian companies to produce from their assets.
Low oil prices, tax structure favor companies, hurts government
The country currently taxes hydrocarbon extraction and heavy oil exports in a structure that levies lower tax rates on companies under lower crude oil prices. As oil prices decline, petroleum companies retain a larger share of their revenue while government oil and gas revenues fall even faster than prices.
Year over year, Russian federal budget revenues from oil and natural gas have fallen 21 percent and 29 percent since 2014. In the same period, annual capital expenditures by Rosneft on exploration and production for projects in Russia has increased by 30 percent and 33 percent while Lukoil's spending has declined 11 percent and 2 percent. State-owned Rosneft and privately-owned Lukoil account for half of Russia's 11 million Boe/d production.
Overall, Russian oil production has increased to record post-Soviet levels on the back of favorable tax structures and exchange rates, continued high investment levels at oil and gas companies, and slower production declines at old fields. Large investments have also been made in new fields that have started or are due to start up in the near future.
Looming privatization and tax changes raise investor uncertainty for Russia
The Russian government has implemented or proposed measures to increase revenues that could potentially affect companies' future investment plans. The government has changed its hydrocarbon taxes several times in recent years and the most recent changes and proposals for change seek to raise oil and gas company taxes.
When the central government is the largest shareholder, it can tell you to pay 50 percent in dividends
The government also collects dividends from oil and gas companies in which the state is a shareholder. In April, it directed state-controlled companies to pay 50 percent of their 2015 net income out as dividends, almost twice as much as they would normally pay. Oil and gas companies have objected to further increases in taxes and dividends.
Needing cash to plug budget holes, the federal government sold its 50.08 percent controlling stake in Bashneft, Russia's sixth largest oil producer, on October 12 to Rosneft for $5.3 billion. At the moment, the government controls 69.5 percent of Rosneft and intends to sell 19.5 percent of its interest, retaining a controlling interest.
Actions like these continue the cycle of nationalization and privatization that has increased Russia's reputation for uncertainty in global markets.
This article was originally published on Oilprice.com
You can share this story on social media: