Deutsche Bank reportedly to slash US business
Published time: 17 Oct, 2016 10:31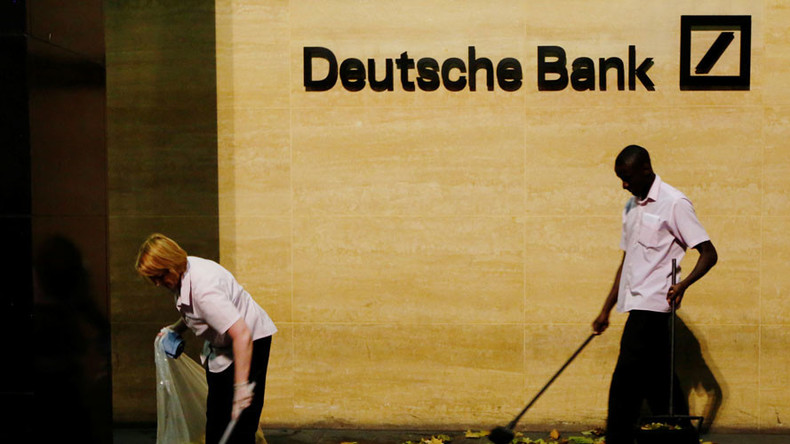 Germany's biggest bank, Deutsche Bank, wants to cut back its US operations and ax another 10,000 jobs as it tries to overhaul costs for its litigation with US authorities, according to various media reports.
According to sources cited by Germany's Sueddeutsche Zeitung, Deutsche Bank is considering selling part of its US business, but no decision has been made yet. Reuters reports a total US withdrawal is not being considered.
Deutsche Bank is looking at ways to reduce its costs as it faces a $14 billion fine from the US Department of Justice over its mortgage-backed securities business. The bank wants to significantly reduce the penalty. According to CEO John Cryan, the bank doesn't want to raise capital, as he expects US authorities to scale back their demand.
German newspaper Die Welt am Sonntag reported that Deutsche's pull back on US operations may be part of a settlement with American authorities.
"They can keep a small US operation to basically serve German and European customers. They don't need an operation to win customers from US clients. You probably need less than half the people you currently have," Davide Serra, founder of Algebris Investments told Bloomberg.
As of the end of 2015 the bank had 10,842 employees in North America, about 10 percent of its global workforce.
A report by Reuters also said Deutsche Bank's Chief Financial Officer Marcus Schenck is pushing for further job cuts.
"Schenck said the bank would need to cut another 10,000 staff to bring down costs," a person who attended the meeting with Schenck told Reuters.
In October 2015, the bank's management announced a 9,000 job cut. If an additional 10,000 jobs go, it would affect every fifth employee globally. Four thousand job cuts of the already announced 9,000 will take place in the bank's home market Germany.