Deutsche Bank sells debt to raise cash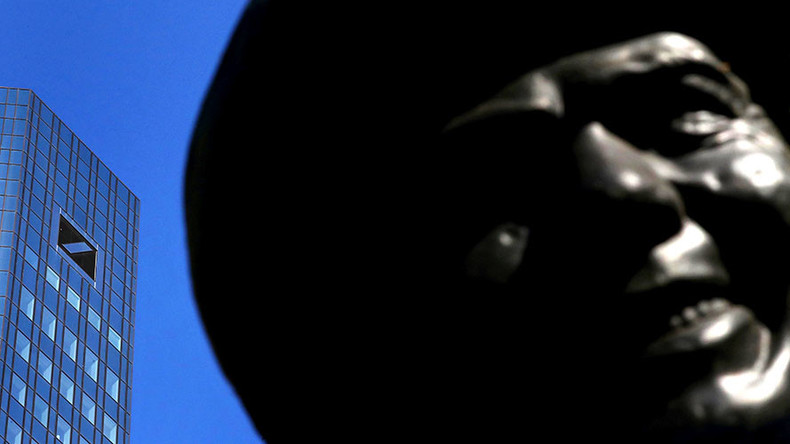 Germany's biggest bank returned to the US high-grade bond market on Tuesday to sell an additional $1.5 billion worth of debt, offering more than double the yield it paid a year ago. Deutsche raised $3 billion in a bond sale last week.
This has given investors in the troubled bank confidence it can tackle the litigation with the US Department of Justice. Deutsche is facing a $14 billion fine over its American mortgage-backed securities business which allegedly led to the US housing crisis in 2008.
"If they are able to take $4.5 billion out, this shows there is clearly demand for the name if there is adequate compensation," Reuters quotes one syndicate banker as saying.
According to Bloomberg's sources, this week's deal was at 290 basis points above borrowing benchmarks, while last Friday's was at 300 basis points.
"It would be expensive for Deutsche Bank to go to the public market for debt issuance now because it has to pay a significant premium and that may shake confidence among investors," Ben Sy, head of fixed income, currencies and commodities at the private banking arm of JPMorgan Chase in Hong Kong told the media.
"The private debt sale shows they can still access the market for sizable term funding," he added.
Market participants are saying the bond sale shows that Deutsche doesn't have problems with liquidity which was earlier pointed out by the bank's CEO John Cryan.
"We should look at the complete picture," Cryan said, adding that Deutsche has more than 20 million customers and €215 billion in reserves.
"In a situation like this, the most important factor is our liquidity reserves," he said.
Cryan has insisted Deutsche Bank does not need a bailout from the German government and the bank is capable of raising private cash to pay the fine. However, the bank has called the $14 billion penalty excessive and is currently negotiating with US regulators.
You can share this story on social media: