World Bank urges action against inequality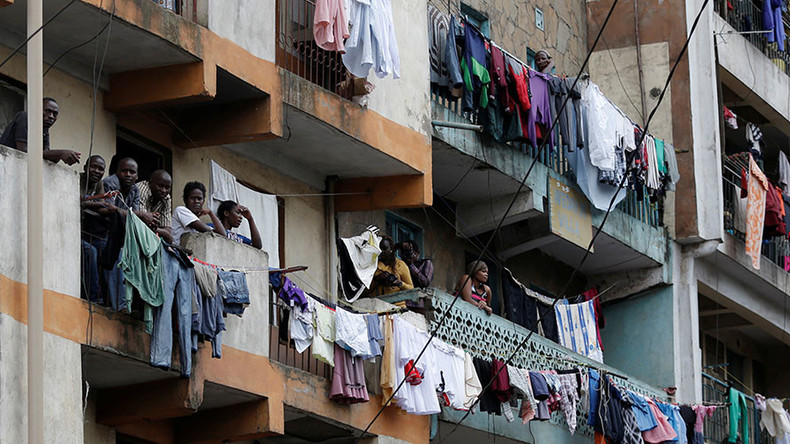 The unequal distribution of the benefits of economic growth may put the brakes on the Word Bank's plan to eliminate extreme poverty by 2030, according to a new study on poverty and shared prosperity.
Ahead of its annual meeting with the IMF this week, the World Bank said the number of people living on less than $1.90 per day - the benchmark for extreme poverty - had declined by more than 100 million despite the stagnancy of the global economy.
"It's remarkable that countries have continued to reduce poverty and boost shared prosperity at a time when the global economy is underperforming," World Bank President Jim Yong Kim said in a statement.
The new data confirms progress made in helping the poor over the last 25 years. "The world had almost 1.1 billion fewer poor in 2013 than in 1990, a period in which the world population grew by almost 1.9 billion people," the report says.
However, the World Bank warns gains will be harder to achieve in the future partly due to the unexpectedly slow growth of the global economy and the tension and wars in the Middle East and Africa that are inflaming poverty.
The bank calls inequality a major barrier for ending poverty that cannot be eliminated by economic growth alone. The countries most successful in eliminating extreme poverty are those where policies ensure that the bottom 40 percent of the population enjoys the strongest income gains as economic growth picks up.
"The larger the growth in incomes of the bottom 40, the more quickly prosperity is changing life for poor people in a society. The size of income growth among the bottom 40 defines a country's level of success in boosting shared prosperity," the bank reports.
Inequality has reportedly grown in advanced economies with a number of emerging countries doing a better job of ensuring the benefits of growth reach the poorest, such as Brazil, Cambodia, Mali, Peru and Tanzania, according to the bank.
READ MORE: Staggering class inequality 'contributed to Brexit' – Oxfam

"Declining inequality is actually possible. It's not a pipe dream. The report has found over 40 such countries where inequality has declined.... It can and has been successfully reduced both in the world as a whole and in individual countries," said Francisco Ferreira, who oversees the World Bank's research programs on poverty, inequality and agriculture.
But despite firm economic growth projected for the next decades, the World Bank won't be able to meet its target of reducing poverty to below three percent of the global population by 2030.
"Unless growth becomes more pro-poor and leads to faster gains at the bottom of the distribution following inequality, the target may well be out of reach," Ferreira stressed.