Staggering class inequality 'contributed to Brexit' – Oxfam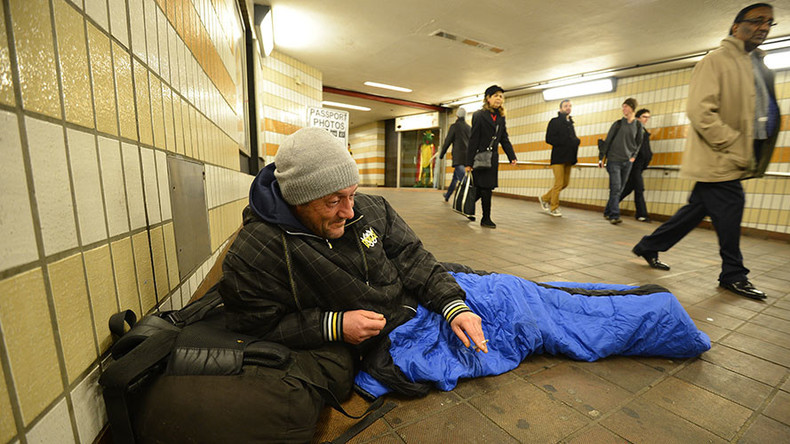 Britain's staggering social inequality – where the richest 1 percent possess more than 20 times the wealth of the poorest fifth – contributed to Brexit, a damning report by Oxfam claims.
The anti-poverty charity has called on Prime Minister Theresa May to take action to close the gap between rich and poor in Britain, one of the most unequal countries in the developed world.
Research indicates around 634,000 Britons are worth 20 times as much as the poorest 13 million.
Rising property prices over the past 20 years, combined with golden handshakes for retiring corporate directors, have helped distribute wealth upwards, while the majority of people who rent and have no pension have seen their wealth remain static or decrease.
Oxfam suggests this huge inequality contributed to the vote to leave the European Union, as people feel increasingly disconnected with the political process.
"The UK is one of the most unequal developed countries in the world. Three decades of high-level inequality have had a profound impact, leading many people to believe that they have little stake in society and to feel locked out of politics and economic opportunity.
"Whatever your views on Brexit, the referendum brought divisions within our country to a head, with many people expressing distrust and disconnection with political processes and voting for change in the hope that it would improve their economic position."
Analysis by the Joseph Rowntree Foundation (JRF) found voters were more likely to vote to leave the EU if they lived in "low-skilled" areas, were unemployed or earned less than £20,000 (US$26,000).
"This research revealed how the referendum was not simply about our relationship with the European Union, but also shed light on the deep divides that exist in our society," said researcher Professor Matthew Goodwin.
The charity used economic data from investment bank Credit Suisse, which showed the richest 10 percent of Britain's population own over half the country's wealth (54 percent), while the top 1 percent own nearly a quarter (23 percent).
The poorest 20 percent of Britain's population own just 0.8 percent of the country's wealth.
Oxfam called on the PM to curb excessively high salaries at the top, boost low wages at the bottom, and to tackle corporate tax avoidance and end UK-linked tax havens.
"Inequality is a massive barrier to tackling poverty and has created an economy that clearly isn't working for everyone. The UK is one of the richest countries in the world, but it's a nation divided into the haves and have-nots," Oxfam's head of UK Programme Rachel Orr said.
"Whilst executive pay soars, one in five people live below the poverty line and struggle to pay their bills and put food on the table."
Adam Smith Institute Fellow Tim Worstall rejected Oxfam's conclusion, describing Britain's current inequality as "natural."
"Note that – the bottom half always owns close to zero in wealth," Worstall wrote on Forbes.com
"So, what Oxfam is complaining about is simply part of the natural order of things."