100mn people could be pushed into extreme poverty by 2030, WB report says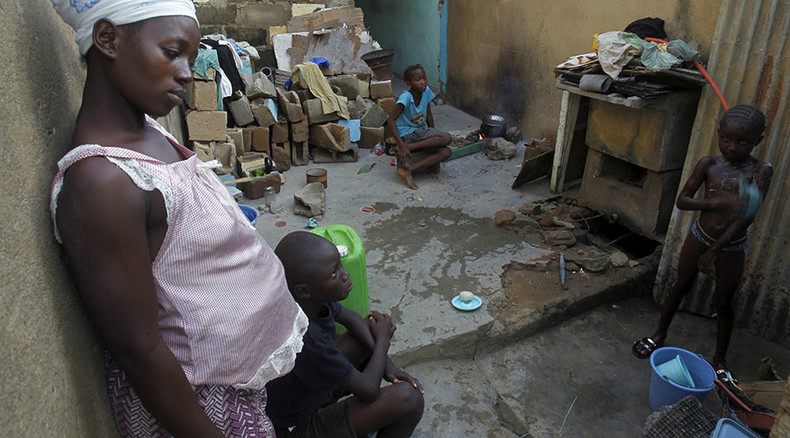 Climate change could push more than 100 million people into extreme poverty within the next 15 years, says a report by the World Bank. Poor people are at particularly high risk from weather-related natural disasters, crop yield losses and disease.
"…Climate change is an acute threat to poorer people across the world, with the power to push more than 100 million people back into poverty over the next 15 years," says the report dubbed 'Shock Waves: Managing the Impacts of Climate Change on Poverty', released by the institution on Sunday.
The paper, which includes findings from at least 92 countries, says without action, climate change "would likely spark higher agricultural prices and could threaten food security in poorer regions" such as sub-Saharan Africa and South Asia.
READ MORE: Global poor to rise as World Bank adjusts poverty line – FT
"The poor live in uncertainty, just one natural disaster away from losing everything they have…And in most countries where we have data, poor urban households are more exposed to floods than the average urban population."
Diseases and health threats in general are the consequences of climate change "as poor people are more susceptible to climate-related diseases such as malaria and diarrhea," it says.
"Poor people are disproportionately affected—not only because they are often more exposed and invariably more vulnerable to climate-related shocks, but also because they have fewer resources and receive less support from family, community, the financial system..."
READ MORE: 'World Bank projects serve industrial ambitions, not alleviate poverty'
The World Bank also states that climate-related shocks can also affect those "who are not poor but remain vulnerable and can drag them into poverty."
The report shows that "ending poverty and fighting climate change cannot be done in isolation – the two will be much more easily achieved if they are addressed together," said Stephane Hallegatte, one of the authors of the paper and a senior economist at the World Bank.
World Bank 'a human-rights-free zone'?
The report was released two weeks after a senior UN official slammed the bank's approach to human rights. In a report, UN Special Rapporteur on Extreme Poverty and Human Rights Philip Alston said that the World Bank "is a human-rights-free zone."
"In its operational policies, in particular, [the World Bank] treats human rights more like an infectious disease than universal values and obligations…The bank has for a long time played a double game where a lot of the publicity suggests that they are engaging intensively with human rights."
READ MORE: Uprooted & evicted: World Bank-funded projects force millions off their land
The bank has long faced criticism over its projects. In April, the International Consortium of Investigative Journalists (ICIJ) released a report in which it stated that World Bank-funded projects force millions off their land.
The World Bank "has regularly failed to live up to its own policies for protecting people harmed by projects it finances," the ICIJ states as one of its key findings. The paper found that some 3.4 million of the "most vulnerable people" have been forced off their land in the last decade.