Wells Fargo CEO to forfeit $41mn over bogus accounts investigation
Published time: 28 Sep, 2016 14:35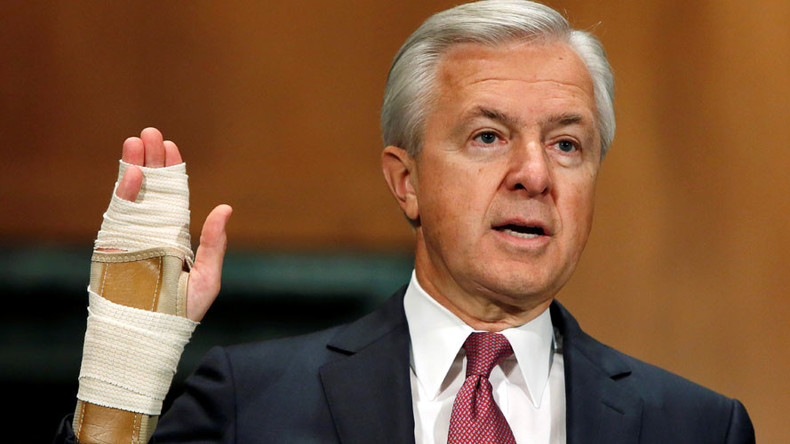 John Stumpf may not lose his job yet as CEO of Wells Fargo, but he will have to forfeit more than $41 million in stock and salary as the bank's board investigates how his employees opened over two million fake accounts for customers to boost sales.
The independent board of Wells Fargo directors said on Tuesday that in the wake of the scandal, where the bank created accounts without customer consent, it is launching an investigation and forcing Stumpf and former consumer banking chief Carrie Tolstedt to forgo their bonuses.
Tolstedt, who headed the retail division at the time of the bank's misdemeanor, will forfeit $19 million in unvested stock, and has also agreed not to cash in outstanding options during the investigation.
This is one of the biggest penalties ever imposed against a bank's top executives. In the aftermath of the financial crisis of 2008, Wall Street lenders paid tens of billions of dollars in penalties for mortgage fraud and other dubious activities, but no CEO was obliged to give back bonuses.
The bank, with a market cap of $235 billion, has already agreed a $185 billion penalty with US regulators. A subsequent share sell-off cost Wells Fargo the status of the world's most valuable bank to JP Morgan.
Stumpf is due to testify soon in front of the US House Financial Services Committee, as Wells Fargo wanted to show the legislators it will not shelter its executives.
"We are deeply concerned by these matters, and we are committed to ensuring that all aspects of the company's business are conducted with integrity, transparency and oversight. We will proceed with a sense of urgency but will take the time we need to conduct a thorough investigation," Stephen Sanger, the board's lead independent director, said in a statement.
Isaac Boltansky, an analyst at Compass Point Research & Trading, criticized Wells Fargo's slow response.
"It's a dollar short and a day late. Lawmakers will focus intently on this coming two days before a congressional grilling, therefore appearing to be more about optics than substance," he told Bloomberg.
Last week, Stumpf was interrogated by US Congress on why the bank allowed employees to open fake accounts for clients. "If I could turn the clock back, I — we all — wish we had done something earlier," he said.
Elizabeth Warren, the Democratic senator known for blasting the banking sector, said, "Have you resigned as CEO or Chairman of Wells Fargo? Have you returned one nickel of the millions of dollars that you were paid while this scam was going on? I will take that as a no." She also accused Stumpf of "gutless leadership."