Wells Fargo slammed with multiple lawsuits over fake accounts & bogus sales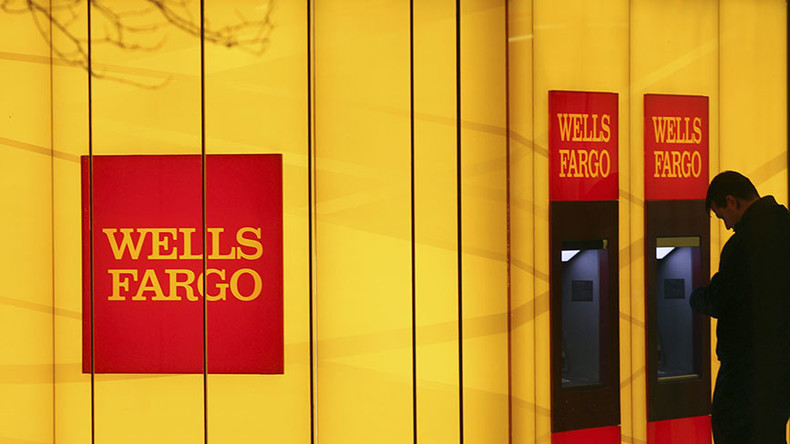 Six former Wells Fargo employees filed a class action lawsuit in federal court against the bank claiming they were demoted or fired when they refused to participate in the bank's illegal practices of opening fake accounts.
The lawsuit is the just the latest of allegations surrounding fraudulent practices which have mostly revolved around the alleged creation of more than 2 million secret, unauthorized bank accounts. Plaintiffs are seeking $7.2 billion or more in damages.
The federal class-action lawsuit filed in Los Angeles federal court on Monday claims that Wells Fargo violated several laws, including Dodd-Frank and the section of Sarbanes-Oxley that prohibits retaliation against whistleblowers. The suit also says the bank made employees work beyond eight hours a day without paying overtime, violating the Fair Labor Standards Act.
"I expect many other law firms around the country will be bringing cases," Jonathan Delshad, an attorney, told the Los Angeles Times. He filed the suit on behalf of employees who may have been fired or demoted over the last 10 years for refusing to engage in the bank's illegal practices.
Wells Fargo spokesman Ancel Martinez told the LA Times the bank disagrees with the allegations in the suit and "will vigorously defend against any misrepresentations [they] contain."
Delshad had also filed a previous class-action lawsuit last week in Los Angeles Superior Court on behavior of two named plaintiffs that was limited to those employees who worked for the bank in California. That suit is seeking damages for $2.6 billion for wrongful termination and unpaid wages.
Every agency w/ jurisdiction should follow @USDOL's lead & determine whether @WellsFargo & its senior execs should be prosecuted/sanctioned.

— Elizabeth Warren (@SenWarren) September 27, 2016
According to the complaint, "Wells Fargo implemented a fraudulent scheme and scam to increase Wells Fargo stock price by aggressively pushing their employees to open accounts to increase their cross-sell number and not putting any barriers or checks in place to see if the accounts were fraudulently and illegally opened or not."
"The scheme was orchestrated by the CEO John Stumpf who wanted to have Wells Fargo customers have an average of 8 accounts per person regardless of whether the customers needed those accounts," the suit continued. "This fraudulent scam was efficiently and identically perpetrated among all branches, and pushed to all banks of Wells Fargo nationwide."
"Wells Fargo's fraudulent scam which was set at the top and directed toward the bottom was to squeeze employees to the breaking point so they would cheat customers so that the CEO could drive up the value of Wells Fargo stock and put hundreds of millions of dollars in his own pocket," the complaint read. "Wells Fargo could then place the blame on thousands of $12 per hour employees who were just trying to meet cross-sell quotas that made the CEO rich."
The two employees in the lawsuit were penalized for not making sales quotas.
"The biggest victims of this scheme are a class of people that nobody else has talked about," the lawsuit says. "The biggest victim of Wells Fargo's scam is the class of victims that were fired because they did not meet these cross sell quotas by engaging in the fraudulent scam that would line the CEO's pockets."
Delshad told the LA Times that shortly after filing the lawsuit his office received calls from former Wells Fargo employees across the country, prompting him to file the federal case.
A separate lawsuit was filed in federal court in Utah on behalf of customers who were harmed by the bank's practices.
"The action was taken despite the fact that Wells Fargo has successfully fought of many lawsuits from consumers because of arbitration clauses in contracts that force customers to give up their right to take the bank to court," the LA Times reported.
Previous suits were also filed against the bank by nine employees in 2014 and the case is scheduled to go to trial in Los Angeles Superior Court.
Wells Fargo has admitted to firing roughly 5,300 employees since 2011 for opening accounts without customers' knowledge. On September 8, the bank agreed to pay $185 million to federal regulators, the Consumer Financial Protection Bureau and the Los Angeles City Attorney's Office over the fraudulent practices.
On Tuesday evening, the Wells Fargo board announced that CEO John Stumpf would lose his 2016 bonus as well as $41 million in stock awards, an amount based on Tuesday's closing figures of $45.09 per share.
On top of that, Stumpf will also forgo his salary during the investigation.
Along with Stumpf, there is also Carrie Tolstedt, the head of the division that created the fake accounts, who will forfeit all of her $19 million worth of unvested stock awards and her 2016 bonus.
On Monday, the US Labor Department said it was investigating possible abuses of employees by Wells Fargo over the scandal.
A group of Democratic senators asked the department last week to investigate whether employees were harassed and threatened with termination to meet the sales push in a complete review of cases and complaints and whether the bank violated the Fair Labor Standards Act.
"Given the serious allegations…and recent media reports, I have directed enforcement agencies within the department to conduct a top-to-bottom review of cases complaints or violations concerning Wells Fargo over the last several years," Labor Secretary Tom Perez told the senators, according to AP.
In response to a Senate hearing last week and an upcoming House hearing, the bank's board is considering whether to claw back, or revoke, money paid out to former retail-banking head Carrie Tolstedt to Chief Executive John Stumpf, the Wall Street Journal reported. Capitol Hill is currently looking into why the company fired 5,300 employees over the sales-tactic scandal, but executives have not been punished.
"If I was a shareholder, I'd be outraged if there weren't clawbacks," Representative Jeb Hensarling (R-Texas) said ahead of a House Financial Services Committee hearing on Thursday. He promised to use the hearing and an ongoing committee investigation to find out how a "fraud of this massive scale took place" at Wells Fargo.