Japan focuses on closer economic ties with Russia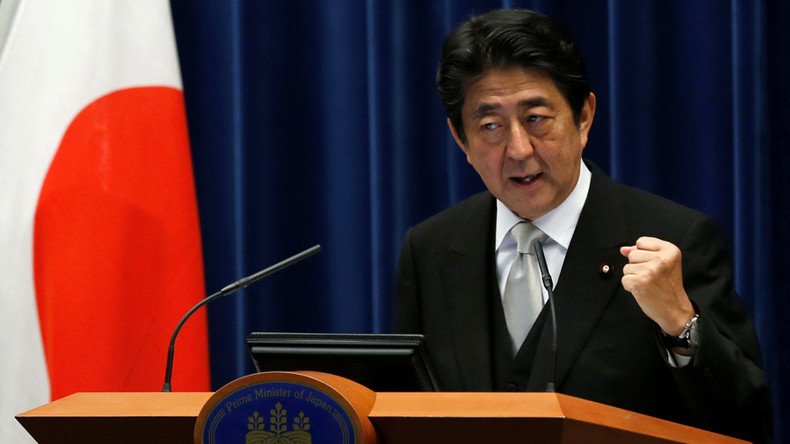 The visit of Japan's Prime Minister Shinzo Abe is expected to be the highlight of Russia's Eastern Economic Forum. Tokyo wants closer economic links with Moscow in the face of a rising China, and restart talks over the Kuril Islands territorial dispute.
Abe is due to visit the Russian city of Vladivostok on Friday and Saturday. He will hold talks with Russian President Vladimir Putin and participate in the forum. The two sides are expected to discuss the economic cooperation plan proposed by Abe in Sochi earlier this year.
READ MORE: Tokyo wants 'new level' in relations with Moscow – PM Abe
The plan has eight target areas of cooperation, including energy, technology, development of industries and export bases in the Russian Far East, and better people-to-people contact.
On Thursday, Abe gave the job of economic cooperation with Russia to Japan's Trade and Industry Hiroshige Seko, who will be with Abe in Vladivostok.
Former lawmaker Muneo Suzuki told Reuters that "broadening economic ties with an eye to the eventual resolution of the territorial row over the islands in the western Pacific made sense because Russia's energy resources and Japan's technological expertise and investment were a good fit."
READ MORE: China invests $2.4bn in Russian Far East
A territorial dispute remains the biggest unresolved issue between Tokyo and Moscow. The two countries have not reached a compromise in a long dispute over the four southern Kuril Islands and did not sign a peace treaty after World War II.
In May, during the Russia-Japan forum in Tokyo, Prime Minister Abe said he was ready to improve relations with Russia to a "new level."
"I suggest we consistently continue efforts to solve the existing problems through dialog and develop relations in all areas," he said.
The Kremlin responded by saying Moscow is willing to restart talks with Tokyo and to finally sign a WWII peace treaty.
You can share this story on social media: