Tokyo wants 'new level' in relations with Moscow – PM Abe
Published time: 21 May, 2015 10:57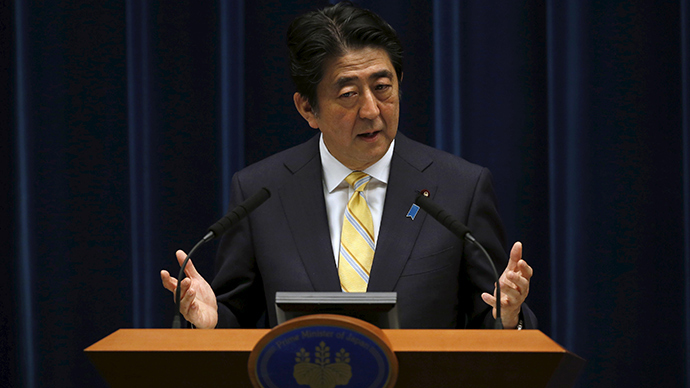 Japan's Prime Minister Shinzo Abe said he is ready to improve relations with Russia to a "new level," adding that development of friendly ties with a major neighbor is a guarantee of stability and prosperity in East Asia in the 21st century.
"Proceeding from a strategic and long-term point of view, I want to improve relations between our countries to a new level. I suggest we consistently continue efforts to solve the existing problems through dialogue and develop relations in all areas," the Prime Minister said in his greeting message at the third Russia-Japan forum in Tokyo, TASS reported Thursday.
A territorial dispute remains the biggest unresolved issue between Moscow and Japan. However, the two countries managed to maintain record-high trade turnover of more than $30 billion in 2014. Japan imported $22.2 billion worth of goods from Russia last year while exports to Russia were $8.2 billion.
READ MORE: Japan: Putin's visit to Tokyo may settle Kuril Islands dispute
"We will negotiate hard to solve the territorial issue and sign a peace treaty. And at the same time strengthen relations on a broad spectrum, including the economy, energy, security, culture and sport," PM Abe was cited as saying by RIA Novosti. He also added that on an official visit to Moscow had a possibility to hold talks with Russian President Vladimir Putin aimed at strengthening bilateral relations.
Russia and Japan have reached no compromise yet in a long dispute over the four southern Kuril Islands as the two countries didn't sign a peace treaty after World War II.
Earlier this week, the vice president of Japan's ruling Liberal Democratic Party, and a former foreign minister Masahiko Komura said Tokyo would like to settle the issue.
Japan wants "to sign a peace treaty to solve the territorial problem and would like President Putin to come to Japan," he said on Wednesday in Tokyo during a meeting with Russian State Duma Chairman Sergey Naryshkin. Prime Minister Shinzo Abe is "very seriously considering" inviting the Russian President, Komura added. Moscow is ready for a dialogue and willing to restart a dialogue with Tokyo to finally sign a WWII peace treaty, the Kremlin responded.