Russia, Japan agree to resume talks on peace treaty after stalling for 10 years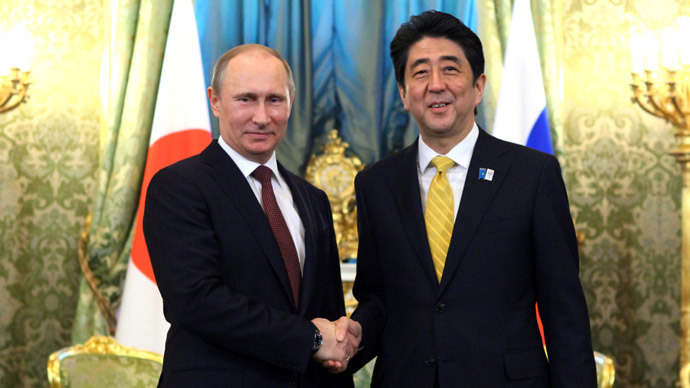 President Vladimir Putin and Japanese Prime Minister Shinzo Abe say the countries foreign ministers are to resume speedy talks on a peace treaty that was suspended in 2003.
"The heads of the two nations have expressed their resolution to overcome the existing differences in the parties' positions and to sign the peace treaty by finally solving the question in a mutually acceptable form," reads a joint statement after a meeting between the two men.
The statement also describes as "not normal" the situation in which the two neighboring nations cannot sign a peace treaty 67 years after the end of the war.
However, the Russian President said in an answer to a reporter's question that the resumption of talks did not mean that all problems will be resolved on the next day. He also added that development of economic ties would be the best support for the diplomatic dialogue.
"It was not us who created this problem. We inherited it from the past. And we sincerely want to solve it in conditions that are mutually acceptable for both sides," Putin said.
Shinzo Abe's visit to Russia is the first by a Japanese leader in 10 years, the same time since Russia and Japan suspended talks over the peace treaty.
Putin and Abe agreed to promote the peace treaty talks on the basis of all previously approved documents and agreements.
The Japanese PM said he invited Vladimir Putin to visit Japan in 2014 and that the Russian leader thanked him for the invitation.
Since the end of the WWII Russia and Japan have coexisted peacefully, and investment and trade between the countries is constantly developing. However, diplomatic relations are tense as Japan refuses to sign a peace treaty with Russia claiming that there is an unresolved territorial issue – the row over several small islands known as South Kuriles in Russia and as the Northern Territories in Japan.
Because of loose definitions in the international treaties signed at the end of the war ,Tokyo demands the return of the islands that were captured by Soviet troops in 1945. Russia insists the islands became a part of the USSR after the war and therefore Russian sovereignty over this territory cannot be revised.
Immediately before Shinzo Abe's visit to Moscow the Russian Foreign Ministry issued a statement urging a 'calm and respectful atmosphere' in looking for a solution.
In recent years the island row has led to several incidents between Russia and Japan. After the most recent, the Japanese Foreign Ministry summoned the Russian Ambassador to protest Russian Prime Minister Dmitry Medvedev's visit to the Kuriles in 2012. Russia replied that Japan had no right to advise a top official on the choice of destination as he travels in his country's own territory.