Russia braces for Japan 'propaganda' as territorial disputes flare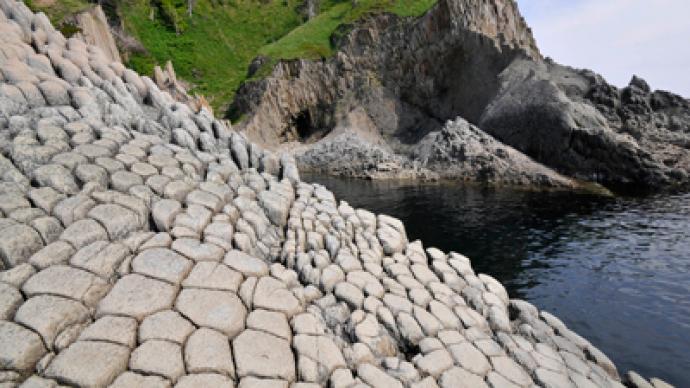 Tokyo is preparing to promote Japan's position regarding its territorial dispute with Russia, as well as with other Pacific nations, by opening a new government agency.
In an effort to win over global opinion over the disputed South Kuril Islands, Tokyo's new government agency, called the Territorial Sovereignty Office of Planning and Coordination, will "address issues involving territories and sovereignty," Yoshihide Suga, Japanese chief cabinet secretary, told a news conference in Tokyo on Tuesday.
The South Kurils – comprised of Kunashir, Shikotan, Iturup and the Habomai Rocks – fell under control of the Soviet Union at the end of World War II and are now considered part of the Russian Federation. Tokyo, meanwhile, argues that the Northern Territories, as it calls the island chain, are Japanese property and should be returned.
The dispute, which continues to hamper Russian-Japanese relations, prevented a formal peace treaty from being signed between Moscow and Tokyo following the end of World War II.
According to Suga, the new office will be assigned the task of studying and analyzing the positions of other countries regarding the issue of territorial problems.
Japan has territorial problems with nearly all of its closest neighbors – Russia, China, and South Korea.
In addition to laying claim to the South Kuril Islands, Japan also declares ownership of the uninhabited Dokdo Islands (called 'Takeshima' by Japan), which are now administered by South Korea.
The territorial dispute between Tokyo and Seoul escalated in August 2012, when South Korea's then-President Lee Myung-bak paid a visit to Dokdo, triggering a harsh response from Japan.
Moscow has reiterated on many occasions that the South Kurils are an integral part of Russian territory, however, in 2011, then-President Medvedev invited Japan to work with Russia in the South Kurils.
"We are prepared for the joint use of the islands, to offer opportunities for investment, to protect Japanese investment and create conditions for doing business," Medvedev said.
Tokyo, for its part, argued that the two countries should first solve their sovereignty dispute over the islands before there can be any talk of joint initiatives.
Meanwhile, Tokyo is involved in yet another territorial dispute with China over a group of uninhabited islands in the East Asian Sea – known as the Diaoyu in China and the Senkaku in Japan – that both nations claim.