Russia, Japan discuss peace treaty in "a more favorable atmosphere"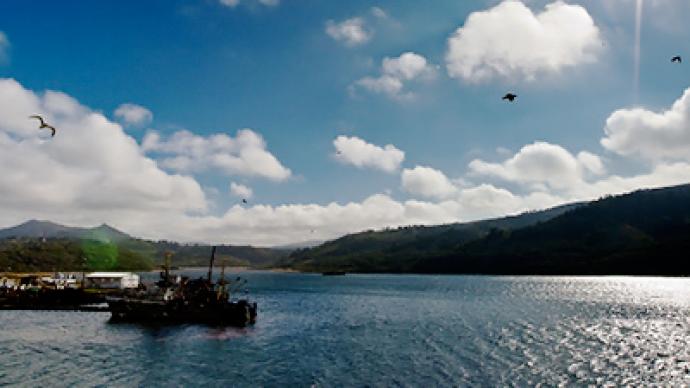 Moscow and Tokyo have created a historical commission to study thorny issues in bilateral relations.
A more favorable atmosphere has developed as of late for discussions regarding a peace treaty between Russia and Japan, the head of the Kremlin administration, Sergey Naryshkin, told journalists in Tokyo on Tuesday. He came to Japan for a brief visit and met with the country's leadership, including Prime Minister Naoto Kan.Japan agrees that dialogue must be maintained "only in a calm atmosphere, without setting preconditions," Naryshkin noted. He stressed that relations have been strengthening on all fronts. "Political contacts are becoming increasingly trust-based," he said, as cited by Itar-Tass. Ties were strained at the end of last when a number of Russian officials, including President Dmitry Medvedev, visited the South Kuril Islands. Tokyo was outraged by the move, as it considers them to constitute a part of their territory.  To this day, Japan still refers to the Kuril Islands as the Northern Territories.  The two countries have failed to sign a formal peace treaty since the Soviet Union incorporated the islands upon the conclusion of the Second World War. Moscow responded by saying that the islands belong to Russia, and the country's leaders may visit them any time they like.   
A joint commission of Russian and Japanese historians will study the thorny issues of the peace treaty and the territorial dispute, Naryshkin said. Russia had long ago proposed that such a historical commission should be created. "Different approaches to the issues concerning the peace treaty are largely determined by disagreements in assessing the reasons and results of the Second World War," the Kremlin's chief of staff said.
The historians may hold their first meeting this December. The Russian side of the joint group will be headed by Anatoly Torkunov, the rector for the Moscow State Institute of International Relations. The Japanese side consists of experts from the Defense Academy.
Analysts predict that it will be difficult for them to come to terms on the Kuril Islands as both sides consider them to be a part of their own territory. At the same time, Moscow and Tokyo agreed on many topical international issues. According to Naryshkin, the two countries "have a common understanding" of the situation in Libya and potential means of settling the conflict in that country.
Medvedev sent a letter to the several other G8 leaders concerning this issue a few days ago, including Naoto Kan, Naryshkin said. The talks that the Kremlin's chief of staff held in Tokyo showed that Russia and Japan "have a similar approach" for settling the conflict in Libya. "All hostilities must completely cease and all diplomatic means must be used to find a settlement," the official noted.
You can share this story on social media: