British shoppers shrug off Brexit doubts as retail sales smash expectations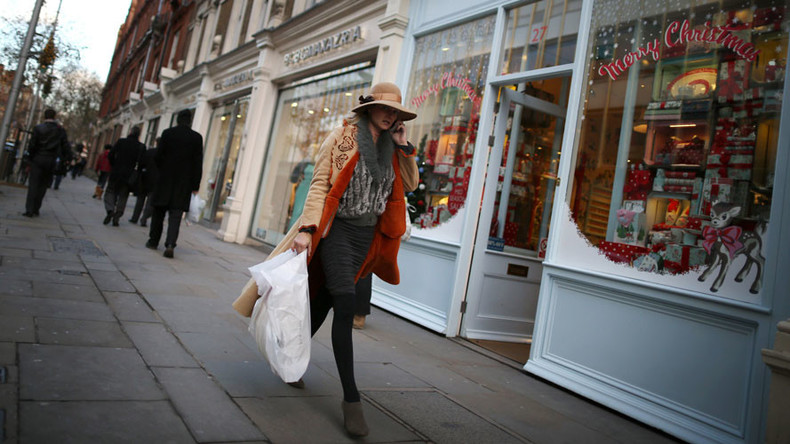 Retail sales in the UK rose by a stronger-than-expected 1.4 percent in July from a month earlier, against a projected increase of 0.2 percent, the Office for National Statistics (ONS) reports.
The yearly figure saw a 5.9 percent rise, boosting confidence about the UK economy following the decision to quit the European Union.
"Better weather this year could be a major factor, with sales of clothing and footwear doing particularly well," said Joe Grice, chief economist to the ONS, adding that the post-Brexit pound slump encouraged foreign visitors to spend more.
READ MORE: London rents see first decline in 6 years

Sales of jewelry and watches rose by 3.1 percent month-on-month and 16.6 percent from a year earlier - the most since November 2014.
Non-specialized shops increased sales by 3.9 percent, the most since December 2013. Food sales increased 0.6 percent, after losing 1 percent a month earlier, while sales of clothes and shoes grew 3.5 percent.
Following the data publication, sterling jumped to a two-week high, by over 1 cent against the US dollar to $1.3154 and 0.8 eurocents against the euro to €1.1631, rebounding from Tuesday's three-year low.
British shoppers' post-Brexit confidence is seen as a sign of the UK's well-balanced position in the face of the recession predicted by some analysts.
"Sentiment is key to avoiding a prolonged downturn or recession and the consumers' willingness to spend would point to it holding up well," said Andy Scott, economist at HiFX, a UK-based foreign exchange broker and payments provider.
Earlier this week, British multinational retailing company Kingfisher said it had not seen any impact on business following the vote, with sales up in the last three months, Reuters reported.
READ MORE: Weak pound sends UK inflation rate near 2-yr high

Other figures posted earlier this week revealed the apparently insignificant impact of the referendum on Britain's labor market. However, the plunge of the national currency reduced the spending power of households, increasing some inflation pressures.
You can share this story on social media: