UK industrial production shows fastest growth in 17 years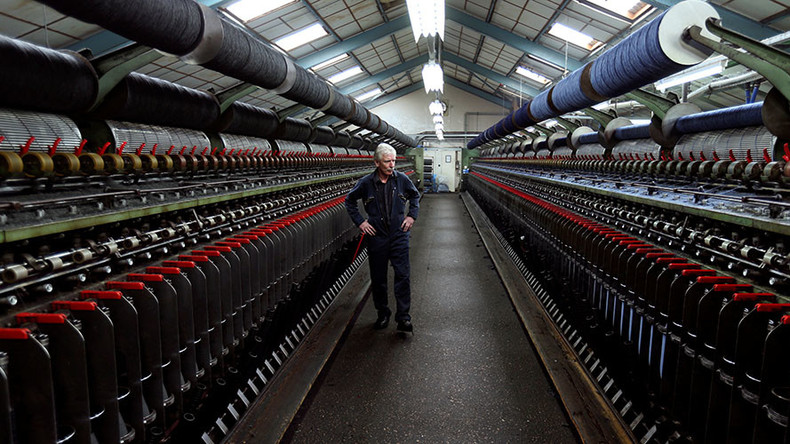 Second quarter industrial output in Britain grew 2.1 percent compared with the first, according to the UK's Office of National Statistics. This is the fastest growth rate since 1999.
The ONS noted that the UK vote to leave the European Union did not slow down growth.
"Any uncertainties in the run-up to the referendum seem to have had little impact on production, with very few respondents to our surveys reporting it as an issue," ONS chief economist Joe Grice said as quoted by Reuters.
READ MORE: London no longer world's most expensive city

Most of the expansion in the quarter came in April with an increase in output of more than two percent compared to the previous month. By June the month on month increase had slowed to 0.1 percent.
"The 2.1 percent quarter-on-quarter rise in production in the second quarter mainly reflected the 2.3 percent month-to-month jump in production in April," said Samuel Tombs, chief UK economist at Pantheon Macroeconomics.
Meanwhile, ONS data reveals Britain's trade deficit widened to over $16 billion (£12.4 billion) in June, compared to a $15 billion (£11.5 billion) the month before as imports reached a record high of nearly $63 billion (£49 billion).
Seeking to drive economic growth after voting to quit the European Union, the UK is attempting to buoy its trade with the rest of the world. However, Britain sold over $16 billion (£12 billion) worth of goods and services to EU countries in June, $650 million (£500 million) more than a month earlier.
READ MORE: UK economy sped up in the Brexit vote run-up
Following the June 23 vote, the British pound dropped more than 10 percent against other currencies, indicating a further boost to future exports and rising cost of imported products.