IMF recognizes Ukraine's contested $3bn debt to Russia as sovereign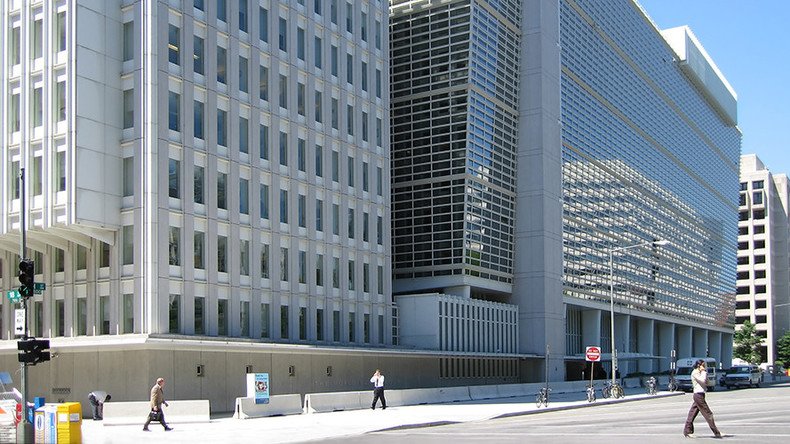 The executive board of the International Monetary Fund has recognized Ukraine's $3 billion debt to Russia as official and sovereign – a status Kiev has been attempting to contest. Russia is to sue Ukraine if it fails to pay by the December 20 deadline.
READ MORE: Putin orders Finance Ministry to sue Ukraine over unpaid debt
"In the case of the Eurobond, the Russian authorities have represented that this claim is official. The information available regarding the history of the claim supports this representation," the IMF said in a statement.
Russia asked the IMF for clarification on this issue after Kiev attempted to proclaim the debt was commercial and refused to accept Moscow's terms for the debt's restructuring.
The December 2013 deal, which envisaged Moscow buying $15 billion worth of Ukrainian Eurobonds ($3 billion in the first tranche), was officially struck between Ukraine's then-head of state President Viktor Yanukovich and President Vladimir Putin. In spite of this fact, some Ukrainian and US officials have been making statements contesting the status of the deal.

The sovereign status of the debt means Ukraine may have to declare default as early as December 20, when the deadline expires – unless Kiev responds to Moscow's restructuring plan.
READ MORE: Moody's expects Russia to restructure Ukraine's debt
The IMF's decision automatically came into effect on Wednesday evening, as no objections to treating the debt as sovereign had been voiced, TASS reported.
Putin had earlier ordered that a lawsuit be filed against Ukraine if it failed to pay its debt within a 10-day grace period following the deadline. Russian Prime Minister Dmitry Medvedev said last Wednesday that he didn't believe Kiev was going to pay.

"I have a feeling that they [Ukraine] will not return anything [to us] because they are crooks," Medvedev said in an interview with Russian TV channels. "They refuse to return the money and our Western partners not only render us no help, they are actually hindering our efforts."
Meanwhile, the IMF decided on Tuesday to change its strict policy prohibiting the fund from lending "to countries that are not making a good-faith effort to eliminate their arrears with creditors."

The decision was criticized by Moscow, as it will apparently allow the IMF to continue doing business as usual with Kiev even if it fails to pay its sovereign debt to Russia.
READ MORE: Moscow wonders if IMF is running a fair game
"We are concerned that changing this policy in the context of Ukraine's politically charged restructuring may raise questions as to the impartiality of an institution that plays a critical role in addressing international financial stability," Russian Finance Minister Anton Siluanov wrote in a Financial Times opinion piece.
Earlier, at the G20 summit in Antalya, Turkey in November, Putin had proposed restructuring Ukraine's debt. The proposed plan would have delayed Kiev's default and allow it to repay $1 billion per year for three years, from 2016 to 2018. However, Moscow demanded guarantees from the US, the EU, or a key international financial organization that Ukraine would remain true to its word and follow the plan. Washington officially declined to do so.
READ MORE: US won't guarantee Ukraine's debt, Russia to sue if Kiev doesn't pay up by late December
You can share this story on social media: