Volkswagen's US boss knew of emissions cheating in 2014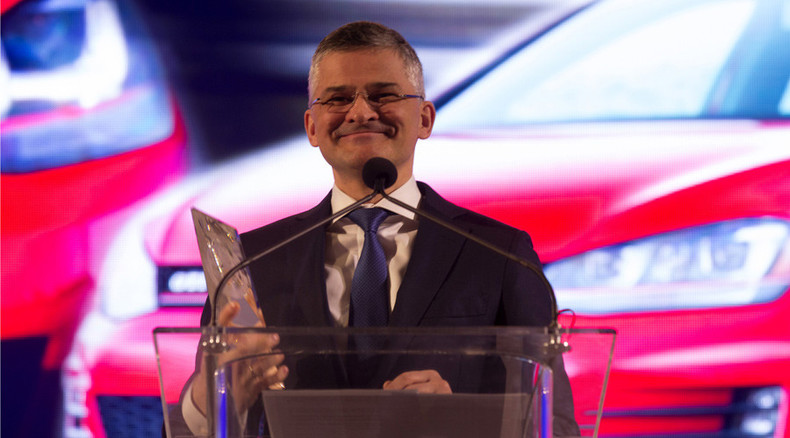 The CEO of Volkswagen Group in America Michael Horn confirmed to a US congressional inquiry on Thursday that he was aware of the company's emissions rigging as early as last year.
Horn said he knew about possible emissions non-compliance in the spring of 2014.
"…I was told that there was a possible emissions non-compliance that could be remedied," he admitted.
"I was informed that EPA [Environmental Protection Agency – Ed.] regulations included various penalties for non-compliance with the emissions standards and that the agencies can conduct engineering tests which could include 'defeat device' testing or analysis. I was also informed that the company engineers would work with the agencies to resolve the issue," the statement said.
Horn said that on September 3 Volkswagen disclosed details to US authorities about the defeat device in emissions software in diesel vehicles for the model years 2009 to 2015.
He apologized for the use of the software, saying "we have broken the trust of our customers, dealerships, and employees, as well as the public and regulators," adding: "We have totally screwed up."
The CEO added that the company took full responsibility for its actions and was cooperating with all relevant authorities.
Volkswagen has withdrawn the certification application for the company's model year 2016 vehicles, according to the document.
Bosses in the US will give evidence to the House Energy Committee and Commerce Subcommittee in a public hearing on Thursday.
The world's biggest auto manufacturer has been engulfed in the pollution scandal which has rocked the global car market. It started last month, after the EPA reported that VW vehicles contained emissions cheating software.
The device allowed VW vehicles to pollute 10 to 40 times over the legal limit.
READ MORE: German prosecutors investigate former VW boss
The carmaker has admitted selling 11 million cars worldwide which manipulated emission test results.
Criminal investigations have been opened by German, US and French authorities. This led to Volkswagen Chief Executive Officer Martin Winterkorn's resignation and his replacement by former Porsche chief Matthias Mueller.
READ MORE: Germany warns auto makers of follow-up tests after VW scandal

On Wednesday, the company said it will start recalling cars equipped with the cheating devices in January and all the cars should be fixed by the end of 2016.
The manufacturer will also delay or cancel some non-essential projects to slash spending as fines linked to the emissions scandal could reach $18 billion in the US alone.