Russia & China launch joint e-commerce platform to boost trade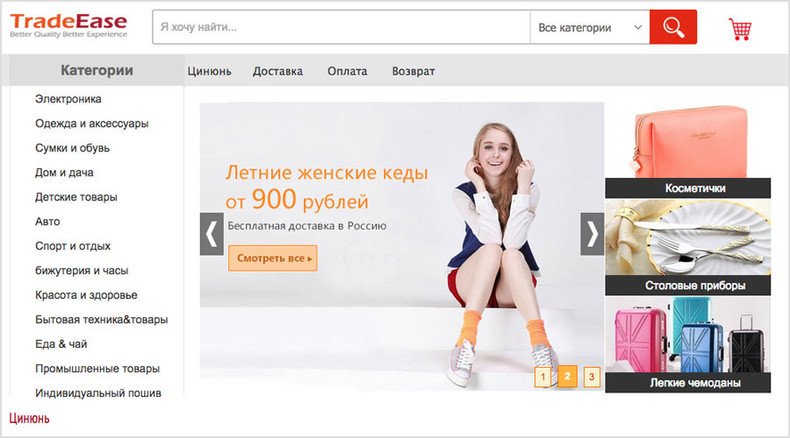 Russia and China have launched an online e-commerce platform called TradeEase which is aimed at increasing cross-border trade between the two countries.
The new platform will allow Chinese shops to sell their goods online to Russian customers.
The creation of TradeEase was announced in March by China's PayEase payment service, Bank of China, China's Heilongjiang province and the border city of Suifenhe. Russian online payment system Yandex.Money will process payments for the platform.
At the moment the platform provides service for 200 shops in Suifenhe, Beijing and other Chinese provinces. Eight hundred more Chinese companies are also expected to join by the end of 2015, an official from Yandex.Money told Russian daily Vedomosti. He added that the average transaction is expected to be $30, with turnover during the first year of operation expected to be $20 million.
"In its first months of work TradeEase plans to attract some 100,000 customers from Russia, with 1 million of them by the end of the year. The platform will also start selling Chinese goods in other countries of Eastern Europe," the statement from Yandex.Money said.
READ MORE: China's second-largest e-commerce company JD.com expands to Russia
Cross-border e-commerce reached $5 billion in Russia last year, with 70 percent of it through Russia-China trade. The launch of the online platform is aimed to help Chinese businesses maintain Russian customers as the depreciating Russian ruble reduced the number of Russian tourists going to Suifenhe which is a popular shopping city.
Chinese online stores, the most popular foreign e-commerce platforms among Russian online customers, have been actively expanding into the Russian market this year.
China's second-largest online retailer JD.com has chosen Russia as the first overseas market and launched its Russian language website at the beginning of the summer. Later, the Russian Post and JD.com signed a deal making it the first Russian firm with authority to directly deliver Chinese goods inside Russia.
READ MORE: ​World's biggest e-commerce group Alibaba opens Russia office

JD.com's biggest Chinese rival, e-commerce giant Alibaba, has also announced plans to sell Russian goods on the Chinese market through its online store AliExpress. Currently, AliExpress is the most popular online shop in Russia with an estimated 15.6 million customers each month. Alibaba has already opened an office in Russia.
You can share this story on social media: