China's second-largest e-commerce company JD.com expands to Russia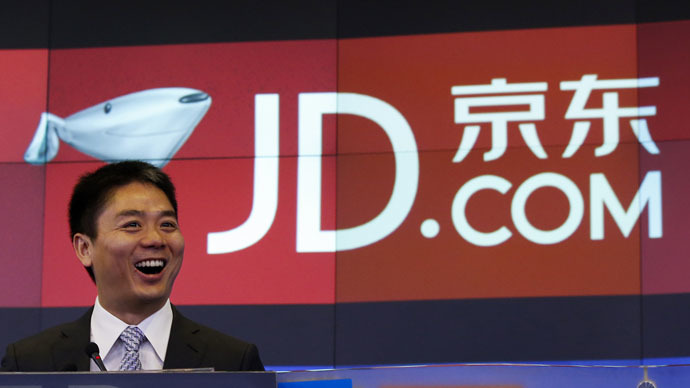 Chinese online retailer JD.com (Jingdong Mall) has chosen Russia as the first overseas market for its expansion, said company's official Victor Xu. The firm aims to become an e-commerce leader in the Russian market within five years.
JD.com is also planning to launch a Russian-language website on June 18.
"At the beginning we plan to provide Russian consumers with the best Chinese goods. And later we want to present Russian goods to the Chinese and other markets, which we will gradually conquer," Victor Xu, CEO of International Business Group for JD.com told reporters in Moscow on Tuesday.
READ MORE: Russia and China to open joint e-commerce platform in summer
The Russian market is a good prospect according to Xu with internet use reaching 70 percent. E-commerce represents 2-3 percent of the consumer space in Russia, he said.
Cross-border e-commerce reached $4 billion in Russia last year. More than 65 percent of e-commerce is coming from cross-border sales with China according to JD.com estimates.
The Chinese online retailer has already signed a delivery contract with the Russian logistics operator SPSR Express and also announced it's ready to cooperate with all international operators of logistics services. JD.com plans to develop its own logistics and warehouses in the future. Meanwhile it says five days as the minimum time for delivery.
The company says its distinctive feature is that it does not sell counterfeit goods but only originals. JD.com major rival Chinese e-commerce giant Alibaba has been struggling with accusations of fake goods on its online shopping platform.
Alibaba has also announced plans to sell Russian goods in the Chinese market through its online store AliExpress. This month Alibaba opened an office in Russia to get closer to one of its strategic global markets. AliExpress is currently the most popular online shop in Russia with an estimated 15.6 million customers each month.
JD.com was established in 1998 and is China's second-largest online retailer. It started international trading in 2012. In 2014 JD.com raised $1.78 billion in its initial public offering (IPO) on Nasdaq.
In China JD.com has 3 million square meters of warehouses, about 3,000 delivery points and 40,000 of its own couriers. JD.com is ranked 11th among the world's largest public internet companies by market capitalization.
You can share this story on social media: