China's e-commerce firm JD.com picks Russian Post for first home deliveries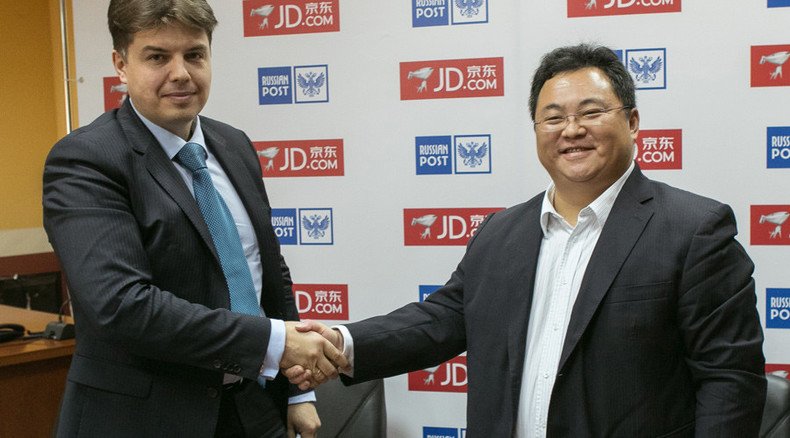 China's second largest online retailer JD.com (Jingdong Mall) and Russia's biggest delivery company Russian Post have signed a deal making it the first Russian firm with authority to directly deliver Chinese goods inside Russia.
Russian Post will deliver goods from en.jd.com to locations within Russia, according to the company.

"The delivery from abroad will be conducted through designated postal operators of China, Singapore and other countries," the document added.
The parties also discussed the possibility of cooperation within Russia, including supply chains, system integration and joint promotion of services.

READ MORE: China's second-largest e-commerce company JD.com expands to Russia
"Russian Post has the largest network of distribution points, some 42,000 post offices across the country. In addition, we develop "last mile" services, we open certain windows and centers for parcels receipt and issue, along with home deliveries," Sergey Malyshev, Deputy Director-General of Russian Post said.

"The addition of Russian Post, the largest logistics company with the widest network of branches across the country, as a JD.com authorized carrier will allow us to ensure prompt and reliable delivery of goods to Russian customers," said Victor Xu, the CEO of JD.com's international business unit.
Cooperation with en.jd.com will further lead to reduced time for delivery and service improvement, he added, without specifying any concrete timeframes.
Russia is an important market for JD International and the new agreement will "highly improve the shopping experience of Russian customers on en.jd.com," the Chinese retailer says.
Last month, JD.com chose Russia as its first overseas market for expansion. It also unveiled plans to become an e-commerce leader in the Russian market within five years. The retailer has already signed a delivery contract with the Russian logistics operator SPSR Express.
JD.com was established in 1998 and started international trading in 2012. Last year the company raised $1.78 billion in an initial public offering (IPO) on Nasdaq.
LISTEN MORE:
You can share this story on social media: