Putin's Beijing visit to boost Russia-China trade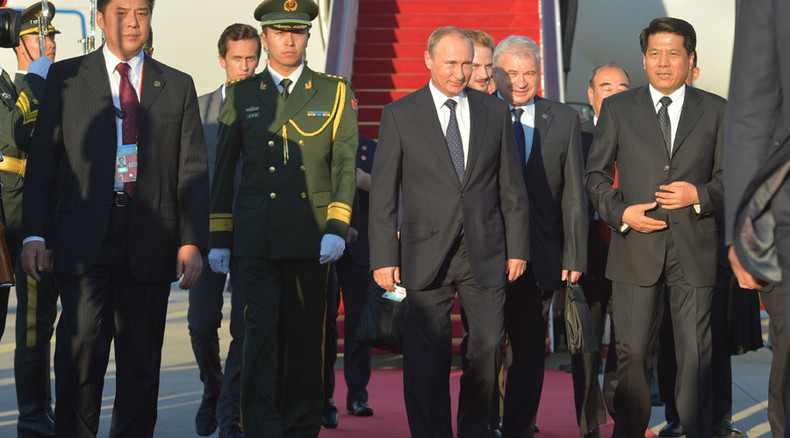 Russia and China are expected to finalize a number of agreements on mutual projects, covering finance, transportation and energy cooperation as President Putin arrives in Beijing on a two-day visit.
Russia-China relations are developing rapidly and have probably "reached a peak in their entire history," according to Putin.
READ MORE: Russia-China relations at 'historic peak' despite 'illegitimate Western restrictions' - Putin
Around 30 documents are planned to be signed during the visit, Putin's aide told journalists earlier this week. The new Silk Road project (China's proposal to establish an economic corridor with Russia and Mongolia), cooperation within the Shanghai Cooperation Organization (SCO) and BRICS as well as preparations for the G20 and APEC summits are among the key topics on the agenda.
But the main prize remains ratifying the historic $400 billion gas deal the two countries signed last May. Under the agreement, Russia is to deliver 38 billion cubic meters (bcm) of gas to China annually over 30 years starting 2018. China has already started construction of its section of the eastern gas pipeline route known as the Power of Siberia.
The sides are currently working on an additional gas supply line, known as the western route or Power of Siberia-2 route. Last year, Putin and his counterpart Xi Jinping signed a memorandum of understanding on the new route. If implemented, the deal would make China the biggest consumer of Russian gas, importing 68 bcm annually.
Map showing route from Moscow to Kazan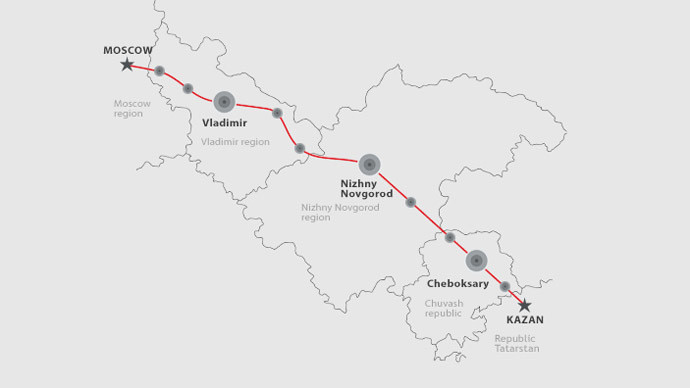 Moscow and Beijing are also developing joint transport and infrastructure projects. They have already agreed on the issues of joint funding for the construction of a high-speed rail route between Moscow and Kazan. The 770 km stretch is scheduled to open by 2020 and cost a total of $15 billion from both sides. The railway is to be further extended to China, connecting Moscow and Beijing through Kazakhstan. It can become part of the new Silk Road project route, which is aimed at tying China with European and Middle Eastern markets.
READ MORE: Russia, China agree to integrate Eurasian Union, Silk Road, sign deals
Both Russia and China are set to bolster their financial partnership, including mutual settlements in national currencies. China is Russia's key economic partner, with trade turnover already reaching $88.4 billion. The two countries have effectively switched to domestic currencies in trading after a 150 billion yuan swap agreement between Russia's Central Bank and People's Bank of China in October. The deal's aim is to reduce the influence of the US dollar and foreign exchange risks.
LISTEN MORE:
Russia's biggest lender Sberbank has an agreement with China's Development Bank worth $966 million, aimed at long-term cooperation for financing foreign trade operations between Russia and China.
During his two-day visit to Beijing, the Russian president will also participate in the celebration of the 70th anniversary of the end of World War II.
You can share this story on social media: