Russia-China relations at 'historic peak' despite 'illegitimate Western restrictions' - Putin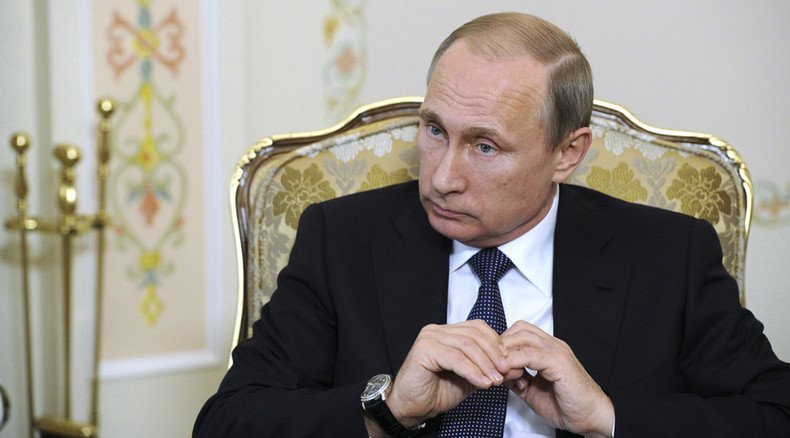 With all the differences between Russia and China, the countries face common development targets, such as changing the structure of the economy to favor high-technology sectors, Vladimir Putin said in an interview to Chinese and Russian media.
The Russian president spoke to TASS and Xinhua agencies as he prepared for a visit to China that kicks off on September 2.
A key point in Putin's Chinese visit is taking part in the celebration of the 70th anniversary of the end of World War II.
"Our two countries were allies in the fight against Nazism and Japanese militarism and bore the brunt of the aggression, and they not only withstood this battle, but won it, liberating enslaved peoples and bringing peace to the planet," Putin said.
He paid special notice to attempts to falsify the history of World War II.
"Efforts by certain countries to glorify and exonerate war criminals and their henchmen are an outrageous flouting of the Nuremberg and Tokyo trials," he said, stressing that Russia and China maintain similar views on such causes.
It is a common goal for the two countries to prevent the revival and spread of Nazism and militarism, Putin said.
The president noted that the international situation is "growing increasingly unpredictable."
"The creation of a new polycentric model is accompanied by growing regional and global instability," Putin said, adding that the main reason for that is the "deficit of attempts to reach compromise," with the "persistent desire" of certain states to "retain their dominance in global affairs at any cost," actually "denouncing the principle of sovereign equality" of all states laid down in the UN Charter.
In this regard Russian-Chinese relations are developing rapidly and have probably "reached a peak in their entire history," said Putin, mentioning "deep respect" and "consideration for each other's key interests" among the key factors of this sincere friendship.
Moscow and Beijing work together in all international organizations, be it G20, BRICS or SCO, Putin stressed.
READ MORE: BRICS/SCO sow panic in Exceptionalistan
"Expansion of the Russian-Chinese partnership meets the interests and strategic goals of our two countries," he said, specifically pointing to the Joint Declaration on cooperation in coordinating development of the Eurasian Economic Union and the Silk Road Economic Belt.
With trade turnover already reaching about $88.4 billion, China is Russia's key economic partner and the "illegitimate restrictions imposed by certain Western countries against Russia" have no negative impact on Russian-Chinese economic cooperation, Putin insists.
READ MORE: Putin says dump dollar
"Our countries are consistently moving towards the creation of a strategic energy alliance," he said. Russia-China deals in gas supply and nuclear power generation make energy the key to closer cooperation between the two countries.
Russia and China also have stable contacts in developing high-speed railway transport, aerospace and space rocket industries.
"Both Moscow and Beijing are set to intensify our financial partnership, including mutual settlements in national currencies," Putin said.
READ MORE: BRICS kick starts $100bn reserve currency pool
Putin, who has visited China 13 times since he first was elected president in 2000, acknowledged that he was lucky to watch China 'on the move' over a number of years, as the country has been "growing more economically powerful, achieving new targets in building a modern infrastructure and in social development."
"The development road China has covered over these years is a path of successful economic reform and wise social policy. This experience is of great value for us," said Putin, adding that Russia and China have very similar industrial priorities and are sharing common development targets.
"There is a lot we can achieve on this basis. And I am sure we will."
You can share this story on social media: