Russia & China to invest $15bn in high-speed rail link from Moscow to Kazan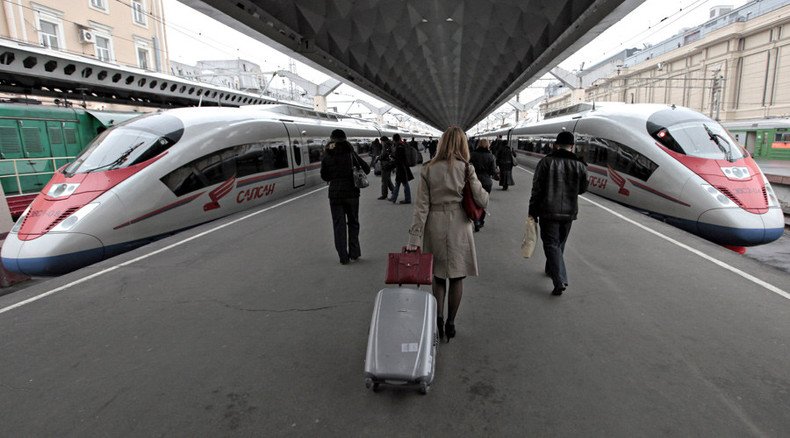 Russia expects the new route to be open in 2020, becoming a role model of Russian-Chinese transport and infrastructure cooperation, said Russian President Vladimir Putin.
Map showing route from Moscow to Kazan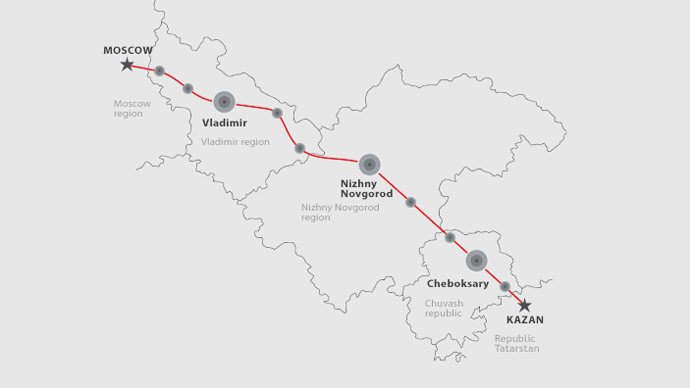 "We have already agreed on the parameters of joint funding for the construction of a high-speed route between Moscow and Kazan, and the amount of investment to be provided by our Chinese partners and us will exceed 1 trillion rubles," he said in an interview to TASS and Xinhua on Tuesday.
The 770 km track will stretch through seven regions of Russia. It will have 15 stops, including Vladimir, Nizhny Novgorod, Cheboksary and Kazan. The journey from Moscow to Kazan, currently a 12-hour trip, is to be reduced to 3.5 hours.
READ MORE: Russia, China agree to integrate Eurasian Union, Silk Road, sign deals
Putin will visit Beijing on Wednesday to attend celebrations to mark the 70th anniversary of China's victory in the War of Resistance Against Japan and the end of World War II.
One of Putin's top aides Yuri Ushakov has announced that Russia and China are planning to sign about 30 bilateral documents. The two sides will also discuss the new Silk Road project, cooperation within the Shanghai Cooperation Organization (SCO) and BRICS as well as preparations for the G20 and APEC summits to be held in the fall.
You can share this story on social media: