Russian ruble, markets recovering from Black Monday's historic low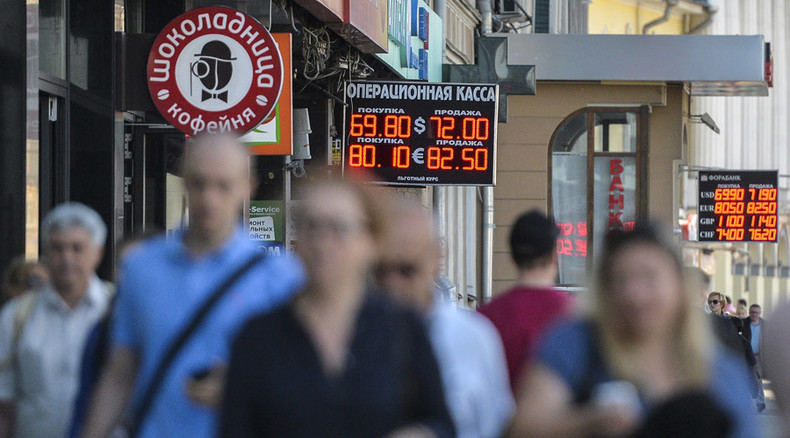 Tuesday has seen the Russian ruble and equity markets rebound after Monday's collapse. As of 15:00 GMT, the ruble was trading over 3 percent higher against the US dollar at 68.26, and gaining 5 percent on the euro at 78.23.
The RTS Index is in the green, winning back more than 4 percent.
This Monday was especially black for the Russian ruble which along with other currencies took a steep dive and set a historic low.
Things were calm as the ruble's 70.75 exchange rate against the US dollar was announced by the Central Bank, a rate not seen even during last December's ruble plunge.
On December 16, the combination of a weak oil price and sanctions as well as market panic resulted in a ruble collapse. The Russian currency was trading at 80 rubles per dollar and 100 rubles per euro. The Central Bank didn't give in to the mayhem and set the dollar exchange rate at 67.79 for December 18.
READ MORE: Ruble plummets losing more than 20% in a day, hitting new dollar and euro lows
However, Monday forced the CB to set a new historic low for the ruble. The main factor was the fall in Brent crude prices, which traded as low as $42.37 per barrel, a six-and-a-half year minimum.
Another hit came from China which is seeing its biggest equity selloff in nearly 20 years. The key Shanghai Composite Index has fallen 22 percent since last Wednesday.
As global markets fell on Monday, currencies followed. The US Dollar dropped 1.6 percent against major currencies after depreciating as much as 2.5 percent earlier in the day. The greenback fell as investors who were buying the dollar against the euro in the previous months, tried to reduce their exposure to currency risks. Emerging market currencies were especially hit hard.