Forbes: Sharapova beats Serena to become highest-paid female in sports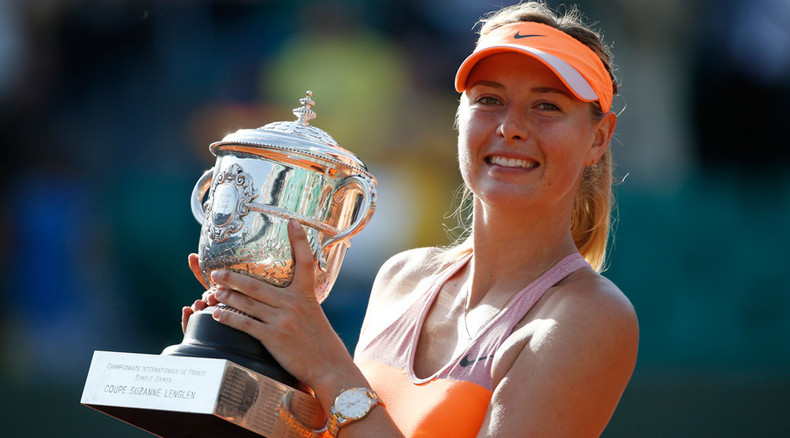 Despite 17 straight losses to Serena Williams on the tennis court, Maria Sharapova has beaten her rival once more off it. With $29.7 million from June 2014-June 2015, the Russian topped the highest-paid female athletes list for the 11th time in a row.
Sharapova recovered from injuries in 2013 and has started winning again. In 2014, she won the French Open at Roland Garros, the fifth Grand Slam event (Wimbledon, US & Australian Opens, and again the French) in her career. This made her gain $6.7 million in prize money, three times more than the year before.
However, less than 25 percent of Sharapova's income came from tennis performances. She has Nike and Head as main contributors with Avon Products, Evian, Porsche and Tag Heuer as side sponsors.
Sugar-free: Sharapova ditches name-change idea
The sales of her 'Sugarpova' brand candy doubled last year, with more than 3 million bags sold in more than 30 countries. She was allegedly considering legally changing her name to Sugarpova for the 2013 US Open, but later ditched the idea, saying it would take too long to get a new passport. The very idea was labeled a publicity stunt in the press.
The Russian tennis player is also the most popular female athlete and tennis player on Facebook with 15 million subscribers.
Sharapova's arch rival, 33-year-old Serena Williams, earned $24.6 million. But most of her income comes from prize money on the court, with less from endorsements. Williams is the world's oldest tennis player to be number one in Women's Tennis Association (WTA). Last month, she had twice as many ranking points than number two Sharapova, which is also a record. In her pro career, she has earned twice as much money as Sharapova at $72.7 million. However, the lack of sponsorships prevents her overtaking Sharapova in total earnings.
Third place on the female athlete list was also taken by a tennis player, Denmark's Caroline Wozniacki, with $14.6 million. The only three athletes in the top-10 that don't play tennis are an auto racer Danica Patrick with $13.9 million, Mixed Martial Arts (MMA) fighter Ronda Rousey with $6.5 million and golfer Stacy Lewis, who earned $6.4 million.