Sugar-free: Sharapova ditches name-change idea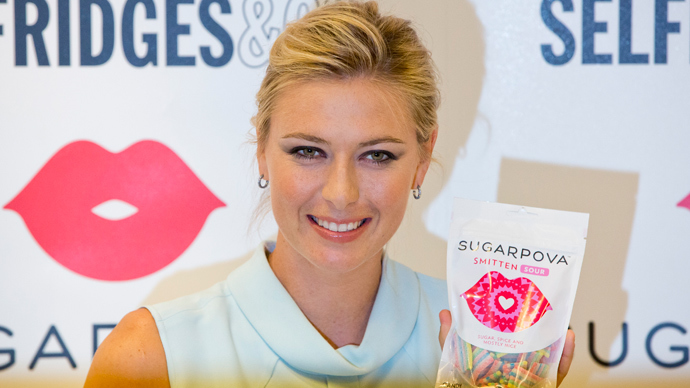 Russian tennis star Maria Sharapova has reconsidered legally changing her surname to Sugarpova – her confectionary brand - for the two weeks of the US Open. The world's highest-earning female athlete said getting a new passport would take too long.
The about-face comes a day after the news about Russia's tennis star planning to change her last name made headlines Tuesday. The media said Sharapova wanted the identity update to promote the candy brand she launched a year ago.
Sharapova approached the Florida Supreme Court about the legal short-term switch, The Times reported. However, she dropped the idea after she realized that passport procedures would be too time-consuming, which would break her plans to move on to Japan shortly after the US Open, Vedomosti daily report Wednesday.
As a part of her promotion campaign the tennis player reportedly planned to wear the Sugarpova 'lips' logo on her tennis clothes.
The news appeared on the eve of the first anniversary of her Sugarpova brand. Sharapova launched the candy and chewing gum brand in August 2012, with the sweets now being sold across 15 countries. She reportedly invested $500,000 of personal funds in the company. Sugarpova sold 1.5 million bags of sweets in its first year at US$6 a pack.
The company's profits have helped Sharapova become the highest earning female athlete in the world, according to Forbes. The tennis player reportedly earned $29 million between June 2012 and July, with the lion's share of her profits coming from endorsement deals. Sharapova won $6 million in prize-money, with the remaining $23 million coming from contracts with such mega-brands as Nike, Porsche, Head, Tag Heuer, Samsung Elecronics and Evian.
The tennis star's candy business has been criticized for promoting unhealthy eating. In Britain, the National Obesity Forum accused Sharapova of being "irresponsible", Reuters reports. She has plans to expand the Sugarpova brand into cosmetics, fashion and other accessories.