French embassy quizzes Russian hygiene watchdog over Auchan inspections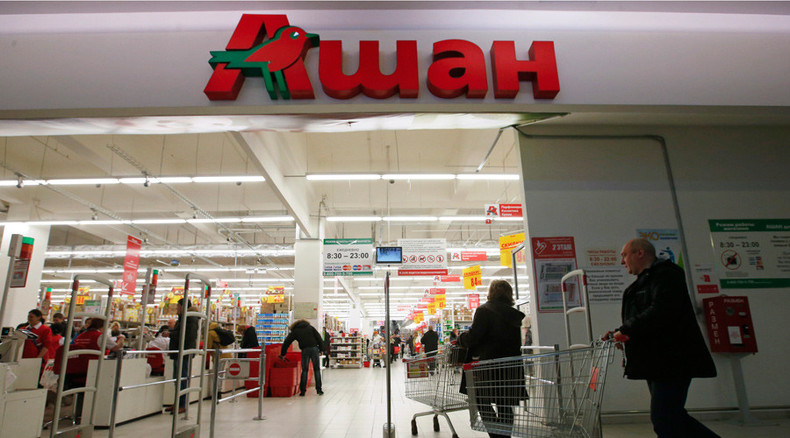 The French Embassy in Moscow sent a letter to Russia's food safety regulator Rosselkhoznadzor over the latest hygiene inspections of French-owned Auchan hypermarkets in Russia.
Rosselkhoznadzor says the check is necessary because of the store's previous food safety violations and failure to comply with Russia's campaign against banned foods.
"As for Auchan, we've received a letter from the Embassy of France, in which they expressed concern about the situation. We understand their worries, but we are doing our job and retail chains have to do theirs properly," the head of Rosselkhoznadzor for Moscow and regions, Evgeny Antonov, told Russian news agency m24.ru on Thursday.
The embassy confirmed it had contacted Rosselkhoznadzor, maintaining that rather than expressing concern, it was seeking clarification of technical issues.
Antonov says that the French-owned supermarket chain is not facing legal action nor suspension of its activities. It will be business as usual for Auchan, he said, but that the regulator gave the company instructions and pointed out shortcomings.
READ MORE: Dark horse: Russia considering European beef ban over meat scandal
On Wednesday, Rosselkhoznadzor announced plans to inspect Auchan hypermarkets after numerous violations were found there. Earlier this month, the watchdog discovered horse, chicken and cow meat in a sample of 'pork mince' sold in one Auchan store. Further inspections revealed that 89 percent of the raw meat was incorrectly labeled. Rosselkhoznadzor then called the products counterfeit, as they were made by substituting cheaper meat for more expensive ingredients listed on the packaging.
READ MORE: Russia begins mass destruction of illegally imported food

Up to 500 tons of counterfeit food has been already destroyed in Russia, the food standards agency said earlier this week. Some 900kg of mislabeled apples sold in Auchan were among those destroyed. The labels stated that the products were imported from Serbia while the real country of origin was Ecuador (though neither country is subject to Moscow's sanctions).
On July 29, Russian President Vladimir Putin signed a decree on the destruction of sanctioned EU and US food products. The measure is part of the embargo introduced by Russia last August in response to Western sanctions.
France's export of products that fall under Russia's embargo has plunged by 97 percent in the first quarter of this year compared with the same period of 2014, according to statistics from the Russian Ministry of Economic Development.