Russia cuts key rate to 11% despite weak oil and ruble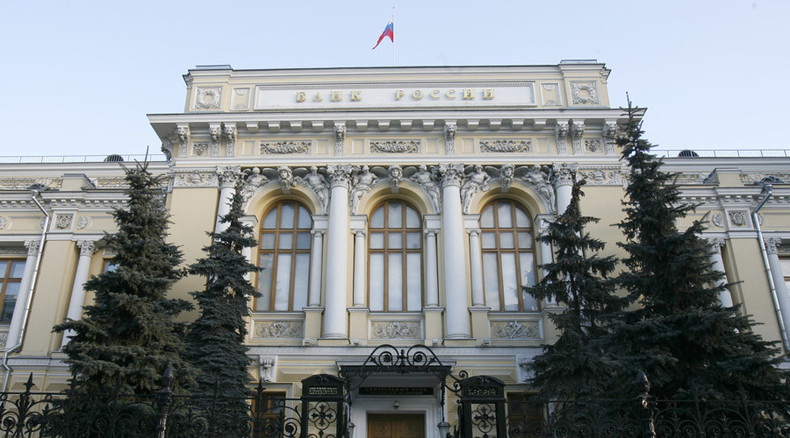 The Central Bank of Russia (CBR) has cut the key interest rate from 11.5 percent to 11.0 percent. Even though there is a slight increase in inflation risks, the CBR says economic growth is a priority. It is the fifth consecutive rate cut this year.
"Major macroeconomic indicators demonstrate further economy cooling. The Bank of Russia estimates GDP decrease in 2015 Q2 compared with the similar quarter last year to be more significant than that in Q1 2015," the Central Bank of Russia (CBR) said in a statement Friday.
The regulator expects consumer price rises will continue to slow amid slack domestic demand.
"Annual inflation will fall below 7 percent in July 2016 and reach the 4 percent target in 2017. The Bank of Russia will further decide on its key rate depending on the balance of inflation risks and risks of the economy cooling," CBR added.
The Russian ruble continued its decline on Friday following the Central Bank's rate cut decision, trading at 61.09 against the dollar and 67.72 against the euro on the Moscow Exchange at 17:37 MSK.
READ MORE: Ruble tumbles before Central Bank key rate decision
While helping balance the effect of falling oil prices on the Russian budget, the weaker ruble means more expensive imported goods.
The regulator also said that "the economic situation in Russia will further depend on the dynamics of world energy prices and the economy's ability to adapt to external shocks". The scenario of oil prices remaining below $60 per barrel for a long time is more probable than it was in June, the bank added.
The next rate setting meeting of the Bank of Russia Board of Directors is scheduled for 11 September 2015.
In June, the Central Bank of Russia cut the key interest rate from 12.5 to 11.5 percent, citing lowering inflation risks as the economy was cooling. The bank then predicted annual inflation by June 2016 would be under 7 percent and would reach the 4 percent target in 2017. It also said that it would continue to cut the interest rate as inflation continued to slow down.
In December the Central Bank hiked the key interest rate to 17 percent in an attempt to curb inflation risks and ruble depreciation. The measure only temporarily calmed the ruble which then lost more than 20 percent, with one dollar buying 80 rubles on the day.
The Russian currency rebounded in the first quarter of this year to an average of 55 against the greenback. This week the ruble fell to a 4-month low, trading at 60 against the dollar and 66.5 against the euro. The currency weakened due to falling oil prices and the stock market crisis in China.
You can share this story on social media: