Oil prices will not fall lower – OPEC chief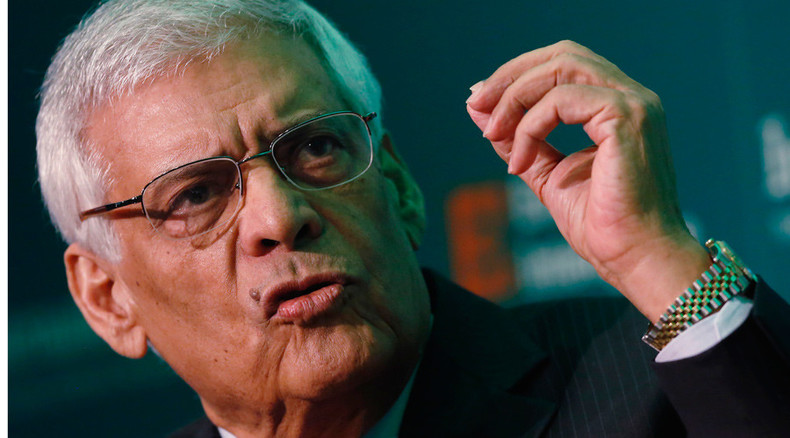 Oil prices will get no lower, as demand is surging and production going down, said OPEC Secretary General Abdalla Salem El-Badri after meeting Russian Energy Minister Aleksandr Novak. However, the cartel is not going to cut crude output.
"At the last meeting, in June, we agreed that we will not reduce production quotas. It is 30 million barrels a day, and will remain so," said El-Badri, responding to a question on whether there is an understanding within OPEC on reducing production quotas.
The global oil demand will increase by 7-11 percent a year until 2020, said Novak. The growth will continue even after 2020, he added.
The Russian Energy Minister said that the situation in the crude market will improve in 2016, as Russia and OPEC share the same views on many questions.
"Despite continuing uncertainties, there are possible signs of achieving a more balanced situation in the oil market and to stabilize it by 2016, which is a mandatory requirement for the continuity of timely and sufficient investments," said a joint statement released after the meeting.
READ MORE: Shell cuts 6,500 jobs & investment by 20% over weak oil
The pricing policy of Russia and the OPEC oil production cuts were not discussed at the meeting with El-Badri, said Novak.
"A number of countries do not want to do this, so OPEC decided to maintain the production volume. The balance of supply and demand must be brought into line by the market," he added.
Speaking about decreasing demand from world's biggest energy consumer, China, El-Badri said OPEC doesn't fear it.
"China has a problem with oil reserves, there is some speculation there. But their economy is growing," said the OPEC head.
The next meeting between Russia and OPEC could take place in Vienna in the second half of 2016.
Return of Iran
Commenting the Iran nuclear deal, the OPEC chief said the world market will be able to take up the volume of oil that will come from Tehran after the removal of sanctions. "We will certainly be able to accept the new amount," said El-Badri.
He said the organization welcomed the lifting of sanctions against Iran.
READ MORE: Energy sanctions on Iran can be lifted by November - deputy oil minister
The oil market could change by 2016 because of the Iranian comeback, said El-Badri. Iran also wants to develop new fields and develop new projects, but "it will begin to occur within 5-6 years," he added.
You can share this story on social media: