Slovenia may be part of Turkish Stream gas project – Medvedev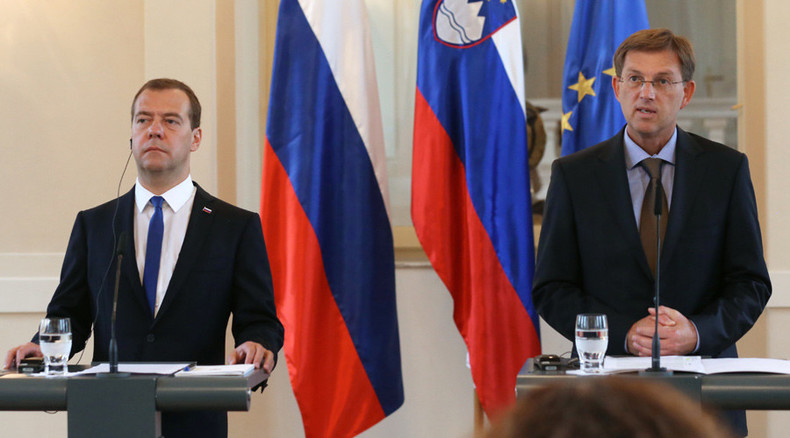 Slovenia may participate in the Turkish Stream gas pipeline after a level of certainty in the project is reached, said Russian Prime Minister Dmitry Medvedev on Monday after talks with his Slovenian counterpart Miro Cerar.
"We're not standing still. We believe that Slovenia, which has always taken a constructive position on this matter, may be involved in other projects, including the Turkish Stream project, at a time when the final agreement on its implementation is reached," Medvedev said.
Slovenia's Prime Minister Miro Cerar said that after the parameters of Turkish Stream are defined his country will assess the need for Russian gas transit through its territory.
READ MORE: Gazprom to build new 63 bcm Black Sea pipeline to Turkey instead of South Stream
It's up to the European Union to decide on means and methods of Russian gas transit beyond the Turkish Stream pipeline hub at the Turkish-Greek border, Medvedev added.
The pipeline's key parameters differ from those of the South Stream project, he said.
"During the South Stream project we initially wanted to agree with everyone but that did not happen due to the position of the EU," the Russian PM said.
Turkish Stream is another story as it's a commercial project, that's why "the EU should decide itself how and where the gas should be delivered on its territory to avoid similar problems."
READ MORE: Russia, Greece sign €2bn deal on Turkish Stream gas pipeline
Russia's task is to make gas available across the Black Sea to the Turkish-Greek border while the rest is up to European customers, said the Russian Prime Minister.
Turkish Stream is the replacement for the South Stream gas pipeline which Russia suspended in December as the EU blocked its implementation.
The 1,100 kilometer Turkish Stream pipeline will have four lines and an annual capacity of up to 63 billion cubic meters (bcm) of gas. About 16 bcm will be supplied to Turkey while the remaining 47 bcm will go to a hub on the Greek - Turkish border to be transported onwards to Europe.