Russia-China deal on 2nd gas route postponed - media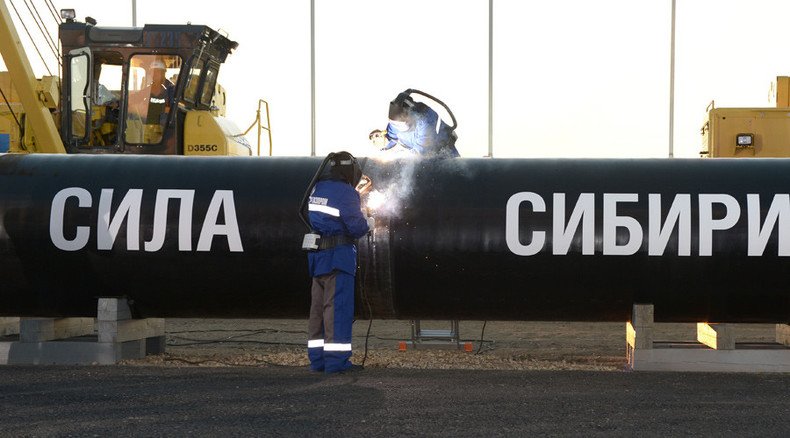 The contract between Russia and China for gas supplied via the western route known as Power of Siberia-2 is being delayed indefinitely, Vedomosti cited Russian officials. They say China is reviewing its energy needs due to the economic slowdown.
The demand growth for gas in China is slowing, at the same time access to liquefied natural gas (LNG) is becoming more available in the country, for example from Australia, due to the fall in oil prices, Sberbank CIB analyst Valery Nesterov told Vedomosti on Wednesday.
Russian Deputy Prime Minister Arkady Dvorkovich said the negotiations on the western gas pipeline were underway, adding that it's unclear how much it would take to finalize the deal.
"I know that in general there's progress [in talks-Ed.], but can't say how much time it will take and whether it'll be signed during the Putin's coming visit to China [in September – Ed.]"
READ MORE: China cuts economic growth target to 7%, lowest in 25 years
While gas consumption in China grew by 12-13 percent in 2013, the growth fell to 8.5 percent to 185.5 billion cubic meters last year. In the first six months of 2015 growth stood at only two percent, according to Nesterov, which means that Gazprom won't be able to get a high price for gas delivered through the western route.
"Gazprom offers CNPC a high price, explaining this by the high cost of the Power of Siberia - 2 construction. China is ready to build the pipeline at a cheaper cost and at public tender, so its companies could participate and for the construction price to be transparent," the president of the Russia-China analytical center Sergei Sanakoyev said.
"Gazprom refuses and China does not hurry," he added.
READ MORE: China begins construction of Power of Siberia pipeline for gas delivered from Russia
Russia's Power of Siberia-2 route, previously known as the Altay route, is expected to supply 30 billion cubic meters (bcm) of gas a year to China. The new supply line comes in addition to the eastern route called the Power of Siberia pipeline, which will annually deliver 38 bcm of gas to China. Work on that pipeline has already started after a $400 billion deal was clinched in May 2014. The pipeline, the world's largest, is scheduled to begin delivering 5 billion cubic meters of gas to China in late 2018, and become fully operationally in 2019.
Gazprom-CNPC talks on the Power of Siberia contract lasted 10 years, and the deal was finally signed after the Russian and Chinese leaders meeting last year.
"It's likely the contract on the second gas deal would also require political interference," Sanakoyev said.
READ MORE: ​Putin, Xi Jinping sign mega gas deal on second gas supply route
Last year President Vladimir Putin and Chinese leader Xi Jinping signed a memorandum of understanding on the western gas route. Putin then said that Moscow and Beijing "agreed on many technical and commercial aspects of the project."
Gazprom CEO Aleksey Miller and Russian Energy Minister Aleksandr Novak earlier said the contract for the western route could be signed in May-June 2015, during the victory in World War II 70th anniversary or the BRICS/SCO summits in Ufa. In May Gazprom and CNPC signed an agreement on the basic conditions of gas supplies from Russia to China through the western route.
READ MORE: Putin breaks ground on Russia-China gas pipeline, world's biggest (VIDEO)
The talks on the western route that are "currently non-intensive, could be given a new impetus during Vladimir Putin's upcoming trip to China in early September," another official told Vedomosti.
When signed, the contract for 68 bcm annually would make China the biggest consumer of Russian gas.
You can share this story on social media: