PayPal market cap hits $50bn on first day of market comeback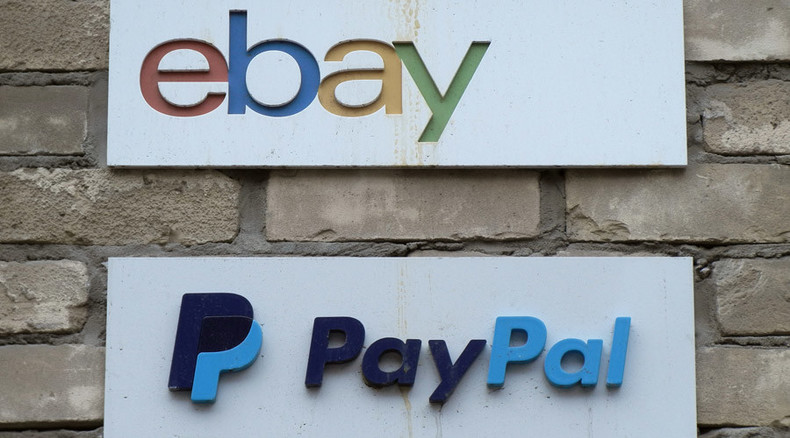 Online payments giant PayPal has returned to the market, following its spinoff from its former parent company eBay. On the first day of trading the market capitalization hit almost $50 billion, compared to eBay's $35 billion.
PayPal started trading on the Nasdaq Monday under the ticker "PYPL," the original one it had before was acquired by eBay in 2002.
PayPal's shares gained 5.65 percent to $40.56 by 8:08pm GMT, while eBay rose 2.51 percent to $28.6. The latter continues to trade under the symbol EBAY on the Nasdaq.
Both companies will benefit from continuing their development separately, the head of PayPal Russia, Vladimir Malugin told RT via e-mail on Monday. "EBay gets an opportunity to focus on trade and PayPal - on payments". He added that as a separate company, PayPal will be able to be more flexible and adapt to the changing needs of the customers more quickly.
READ MORE:PayPal to go at it alone, split from eBay
PayPal users will still be able to pay on eBay without worrying about the security of their financial information, Malugin said.
He added the company's Russian branch will work actively to increase the number of stores, where PayPal's services will be available to users. More than 50 percent of the largest websites on the Russian-language community internet (Runet) use PayPal services, and the company plans to increase that number, according to Malugin.
Last September, eBay announced plans to 'spin off' PayPal. The move was largely advocated by activist investor Carl Icahn.
PayPal was established in 1998 and first went public in 2002. Later that year it became a subsidiary of eBay in a $1.3 billion stock deal. EBay used the platform as a way for its customers to make transactions.
PayPal currently has more than 169 million active users, and in 2014 the company provided more than 4 billion transactions, with one billion of them on mobile payments, according to Malugin.