​PayPal to go at it alone, split from eBay
Published time: 30 Sep, 2014 13:05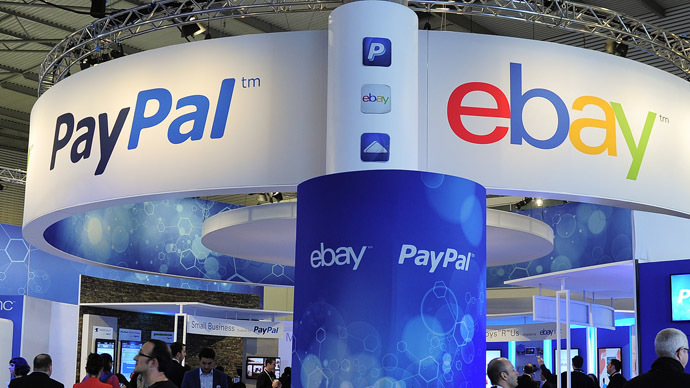 Online auctioneer eBay and online money transfer service PayPal are to become two separate companies, with the goal of getting PayPal publicly traded in 2015.
The eBay-owned and California-based online money giant PayPal will become a separately traded company by the middle of next year, according to a statement published on PayPal's website on Tuesday morning.
"The company expects to complete the transaction as a tax-free spin-off in the second half of 2015, subject to market, regulatory and certain other conditions," the statement says.
The move was largely advocated by investor Carl Icahn, who has long lobbied for a PayPal spinoff. According to the press release, PayPal revenue grew 19 percent over the last year to $7.2 billion. EBay's revenue of $9.9 billion is still bigger, but expanding at a slower pace.
EBay purchased then up-and-coming PayPal on July 8 2002 in a $1.3 billion stock deal. PayPal was founded in 1998 by Stanford alumni Peter Thiel and Ken Howery and University of Illinois graduates Ukrainian-born Max Levchin and Polish-born Luke Nosek, and later joining with Elon Musk's x.com in 2000.
"For more than a decade eBay and PayPal have mutually benefited from being part of one company, creating substantial shareholder value. However, a thorough strategic review with our board shows that keeping eBay and PayPal together beyond 2015 clearly becomes less advantageous to each business strategically and competitively," eBay head John Donahoe said in the statement.
"We believe eBay and PayPal will continue to do so as separate, independent companies. Tremendous opportunities exist for each business," he added.
Donahoe will step down as CEO of eBay once the split is final and Devin Wenig, who is the current president of eBay Marketplaces, will become the new eBay boss. Donahoe will stay with the company.
Before the announcement was made, both companies denied rumors of the juncture.
Up until now, PayPal has acted as an insurer for eBay products, so if a product gets lost in the mail or a seller is a fraud; PayPal is responsible for returning money to the eBay buyer.