Russian ruble debuts on PayPal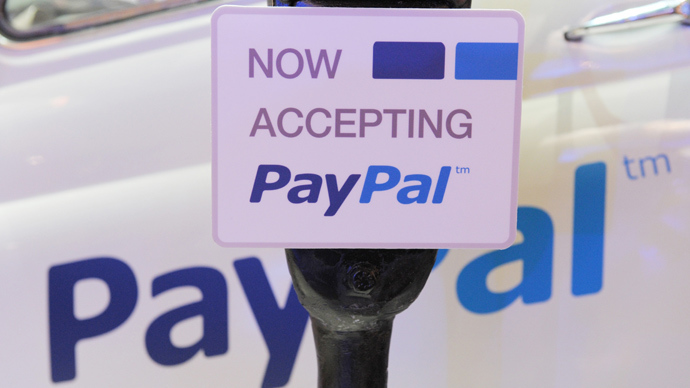 The world's biggest electronic payment system PayPal has started operating in Russian rubles, making internet purchases and money transfers easier for about a million Russians. Last year the volume of transactions in the country surpassed $1 billion.
As of September 17, users in Russia can now connect with the 164 million buyers and sellers on the eBay international auction site. The move will benefit Russian retailers who view the introduction as a positive market mover and testimony to the growth the e-commerce market has already achieved.

The PayPal deal also gives Russians more security in their online shopping, as it acts as an insurer for eBay.  Whether the seller is a fraud or the product gets lost in the mail, PayPal returns money to the buyer.

PayPal has been available in Russia for two years, but has been somewhat of a conundrum as all of the money transactions were limited to US accounts. Despite the limitation, the volume of PayPal transactions by Russians amounted to $1 billion in 2012, according  to John Donahoe, president of eBay, which has owned PayPal since 2002.
Trade-wise, the start of ruble operations via PayPal will mean much easier access to eBay, the world's largest online marketplace. But analysts fear PayPal could flop in Russia, as competition among internet payment systems in the country is already pretty tough.
"Service isn't likely to reach the same levels as it did in the West. The highly competitive market in Russia already has many big players," said Sergei Bludov, the board chairman of Russian payment system 'Leader', told the BBC.

The current leaders are Yandex.Money that holds 15 percent of market share, and Webmoney with its 10 percent share. PayPal currently accounts for 6 percent of Russian e-commerce, according to 2012 research by analytic firm TNS.
Bludov added, however, that PayPal could fill a niche for money transfers, as it can be used not only for online shopping, but for wiring funds internationally.

Going online
PayPal, and other e-commerce companies, have recently increased their profile in Russia to meet the lucrative domestic and international online shopping demand.  Domestic online retail is growing at 27 percent per year, and though it is expected to slow in the next five years, is still seen adding at  least 14 percent yearly.

Russian e-commerce will triple in volume by 2015 to $36 billion, up from $12 billion in 2012, Morgan Stanley forecasts. In 2012 online retail accounted for only 1.9 percent of the country's total retail industry ($670 billion).
The market is fresh, as 48 percent of Russian internet shoppers started making purchases online in the last two years.

Internet purchases will make up 4.5 percent of all retail sales by 2015, according Morgan Stanley's estimates. 

'License to sell'
Before entering the increasingly profitable Russian e-commerce market, PayPal had to acquire a special license from the Central Bank of Russia, which it received last May.

PayPal planned on entering the Russian market as early as 2011, but faced many setbacks including the Russian law that required all online payment platforms to have a non-credit banking institution license from Russia's Central Bank (CBR). These licenses usually cost a company slightly under $600,000 (18 million rubles) transfers to and from Russian