Greece's GDP to shrink 20% in case of 'Grexit' – S&P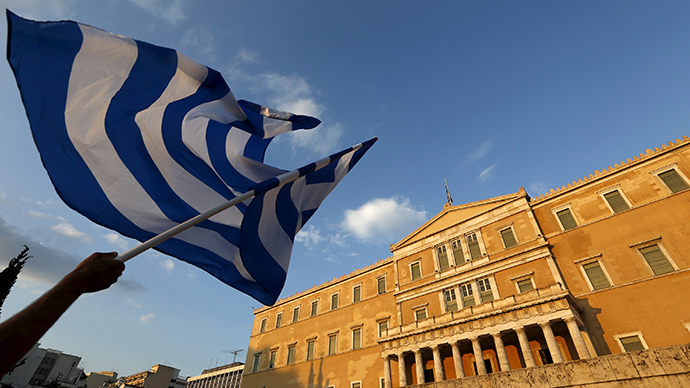 A possible 'Grexit' will cause 'severe' consequences to the Greek economic system, warns the Standard and Poor's (S&P) rating agency. It has increased the chances of Greece exiting the eurozone to 50 percent.
Greece's banks and payment system will be unable to operate and will consequently shut down without the euro support system, estimated at 70 percent of Greek GDP, S&P reported on Thursday. Greece will then permanently lose access to financing from the European Central Bank, which would create a serious foreign currency shortage for the private and public sectors.
In the case of a 'Grexit' the country's real GDP will immediately plunge 25 percent and still be 20 percent below the baseline after four years, according to the report. Unemployment will surge above 29 percent and will only gradually come down.
#Grexit simulation: In the 2 years following a euro exit, #Greek#unemployment reaches 29% http://t.co/qAsYYAEBwWpic.twitter.com/7MlUoqdg6P

— Standard & Poor's (@standardpoors) July 2, 2015
Greek banks lost €35 billion worth of deposits between November 2014 and April 2015, according to S&P, which estimates that the outflows reached €54 billion or 30 percent of GDP by the end of June.
Standard and Poor's predicts that a new Greek currency will depreciate against the euro, causing the value of euro-denominated public and private sector debt to balloon.
READ MORE: S&P downgrades Greek credit rating, puts chance of Grexit at 50%
The rating agency suggested that Greece will more likely may vote 'No' in Sunday's referendum over its bailout terms, which could pre-empt a Greek exit from the eurozone. While Greece is a much closed economy and has limited trade links, the impact of a 'Grexit' would have very limited ripple effects.
READ MORE: Greek PM: We aim to seal deal with creditors after referendum
'Grexit' poses larger risks for capital markets, where it can drive up yields, particularly for more fiscally vulnerable peripheral countries, such as Spain, Italy and Portugal, according to the report.
"The overall economic impact of a Grexit would be severe for Greece but more contained for the rest of the eurozone."
However, policymakers in Greece and the EU have been repeatedly saying that they wanted Greece to remain in the eurozone. Greek PM Alexis Tsipras said Wednesday that his government hoped to reach a deal with creditors after Sunday's referendum, whatever the result may be.
You can share this story on social media: