​S&P downgrades Greek credit rating, puts chance of Grexit at 50%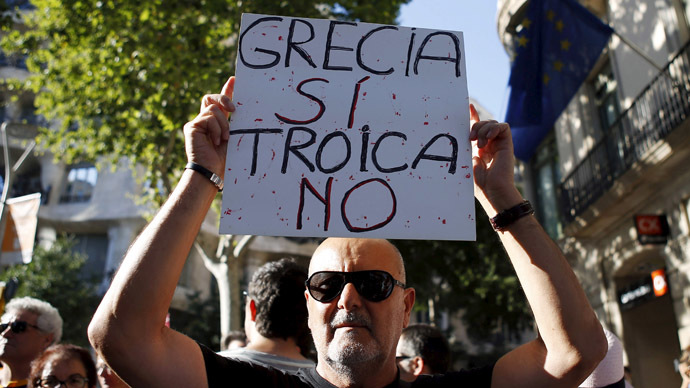 Standard & Poor's has downgraded Greece's credit rating from CCC to CCC-, increasing the probability of an exit from the Eurozone to 50 percent.
"In our view, the probability of Greece exiting the eurozone is now about 50 percent," S&P said in a press release. "Also, we believe that, absent unanticipated favorable changes in Greece's circumstances, a commercial default is inevitable within the next six months."
READ MORE: Greece closes banks, imposes capital controls

S&P downgraded Greece's rating with a negative outlook, meaning a likely selective default within half a year, probably due to non-payment of commercial debt, including treasury bills.
The rating agency also reported that the bank holidays will only put more pressure on the country's economy, which is expected to shrink by 3 percent in 2015, according to their estimates.
On June 11, S&P downgraded Greece's rating from CCC + to CCC with a negative outlook.
The Greek government reported earlier that it won't manage to make the loan payment to the International Monetary Fund on Tuesday.
On Saturday the Eurogroup held an extraordinary meeting in Brussels on fiscal austerity and reforms in Greece. The finance ministers of the Eurozone refused to extend the bailout to Greece after June 30.
On Monday Greece imposed restrictions on cash withdrawals from bank accounts, with Greek banks likely to remain closed all week. The measure is compulsory, as the outflow of funds from banks over the weekend alone exceeded € 1.3 billion.
Negotiations with the European creditors have been frozen until July 5 – the day Athens will hold a national referendum on the debt agreement. A negative outcome from the vote would cast doubt on Greece's membership in the eurozone.