​Expensive oil a curse that hindered Russian economic reforms – Kremlin administration head
Published time: 22 Jun, 2015 12:00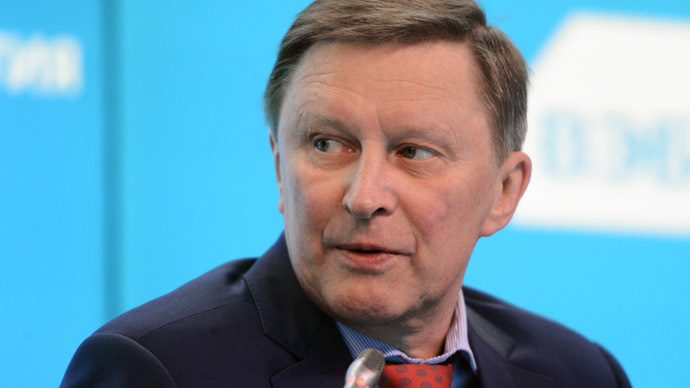 High oil prices are not a blessing for Russia, however their current level and the ruble exchange rate are ideal for starting structural reforms, the head of the Presidential Administration Sergey Ivanov said in an interview with the Financial Times.
"There are two points of view on mineral resources. One says that Russia's richness in mineral resources, primarily oil, is a blessing for Russia. There is a different point of view, to which I subscribe, that mineral resource wealth and in particular high oil prices, is not a blessing but a curse for Russia. That's what I think," Ivanovsaidin an interview published Monday.
READ MORE: Worst over for Russian economy, time to talk success - economists
He added that with the oil price somewhere above $60 per barrel and the ruble around 55 to the dollar, that is an ideal ratio and it is time to engage in structural reforms.
The 2000s saw very high oil prices, and Russia lost motivation to make structural reforms and diversifying the economy, Ivanov said, adding that with"a golden rain pouring down on you,"anyone would have had the head swimming, not only Russia.
The sanctions resulted in a decline in real incomes of citizens and a consequent fall in consumer demand. Now it's high time Russia accelerate structural reforms, to work more with human resources, to improve the investment and business climate, to diversify the economy and to implement import substitution, said Ivanov.
READ MORE: Russia got rid of 'Dutch disease', low crude price not tragedy–finance minister
Mineral resources are not the only thing that Russia can offer, it has talented engineers and vast engineering resources as well as IT specialists, the minister said.
Oil prices have fallen about 50 percent from their peak of $115 a barrel last summer. In June OPEC members decided not to cut crude output, repeating their decision in November. The Saudi-led bloc aims at keeping its market share, trying to oust competitors, especially US shale producers.
In summer 2014 the US and the EU introduced economic sanctions against Russia over its reunification with Crimea and its stance in the Ukrainian conflict. On Monday the EU has decided to prolong the sanctions till January 2016.
Russia introduced a food embargo against countries that supported the sanctions in response.
In June, the World Bank issued an improved economic forecast for Russia for 2015-2017. Real GDP is expected to contract by 2.7 percent in 2015, increase by 0.7 percent in 2016, and 2.5 percent in 2017.
The Central Bank of Russia is less optimistic and expects GDP to decline by 3.2 percent in 2015. Russia is aiming for an average 3.5 percent growth of GDP in the medium-term, said President Vladimir Putin at the 2015 St. Petersburg International Economic Forum on Friday.