Kiev will make payment on $3bn Russian debt on June 22 – finance minister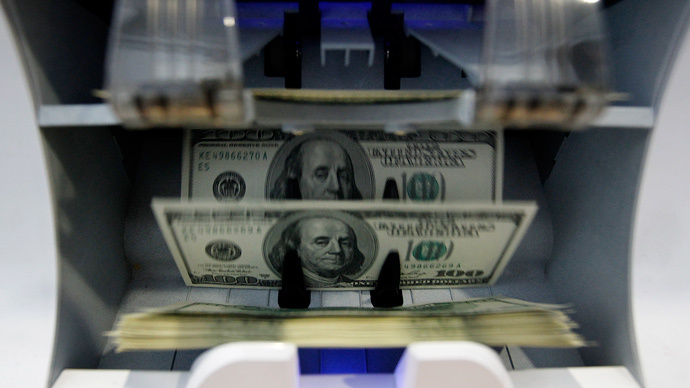 Kiev will pay $75 million on its $3 billion Eurobond debt to Russia on June 22, Ukraine's Finance Minister Natalia Jaresko has confirmed.
READ MORE: Kiev acknowledges $3bn debt to Russia along with other Eurobonds - finance minister
"Ukraine will continue paying its debts to ensure a constructive course of negotiations on debt restructuring. On June 22 Kiev will also make the next payment on Eurobonds, the deadline for which is December 2015," the minister said at a briefing in Kiev on Friday.
The minister also added that Ukraine has already paid $39 million interest on other Eurobonds two days ago.
Kiev is meeting with a committee of its creditors and the International Monetary Fund (IMF) next week to discuss debt restructuring, she said. Ukraine has already prepared a proposal that includes a reduction in the amount of debt, extending the period of repayment and changes in the interest rate.
READ MORE: Kiev acknowledges $3bn debt to Russia along with other Eurobonds - finance minister
Jaresko said Tuesday that Kiev recognizes its $3 billion loan from Russia along with other Eurobonds. The minister added that Ukraine intends to restructure the loan.
The Finance Minister said that Ukraine's needs and goals stay the same. Kiev wants the same amount of savings and to reduce the pressure on the balance of payments by $15.3 billion within four years. The ratio of debt to GDP of 71 percent and the average level of funding after four years should be no more than 10 percent of GDP, according to Jaresko.
Ukraine's total debt stands at above $50 billion and the government plans to restructure $22 billion provided by private lenders.
Kiev intends to save $15.3 billion as a result of debt restructuring but creditors have refused.
Earlier this week Ukraine's President Petro Poroshenko called the $3 billion loan from Russia a Yanukovich regime "bribe" which he got in 2013 in exchange for refusing to sign the Association Agreement with the European Union.
Ukraine's Parliament had passed a bill allowing a moratorium on foreign debt payments which was later signed into a law by the president. The bill's stated aim is to protect state assets in case of an "attack" from dishonest lenders, and to help the ailing economy out of crisis. Russian Deputy Finance Minister Sergey Storchak said that should Ukraine fail to meet a scheduled $75 million interest repayment to Russia on June 22 it would mean a default.
In 2013 President Vladimir Putin and Ukraine's then President Victor Yanukovich agreed Russia would buy $15 billion in Ukrainian government securities.
Under the program bonds worth $3 billion were then placed on the Irish Stock Exchange on December 20 and bought by Russia with money from the National Welfare Fund. The remainder of the $15 billion loan wasn't provided after the crisis in Ukraine escalated.