Debt commitment or 'bribe'? Moscow, Kiev in war of words over $3bn loan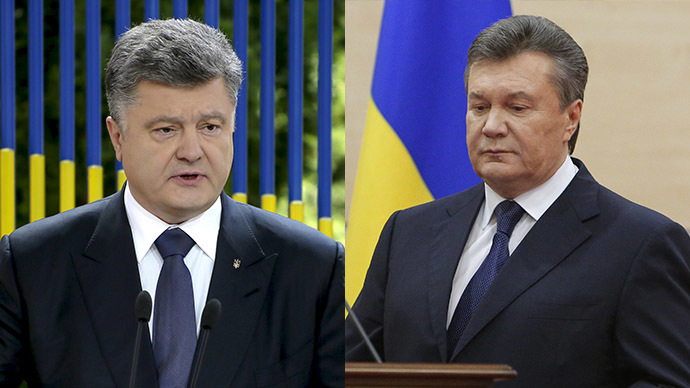 Moscow is expecting Kiev to clarify whether the latter is going to honor Ukraine's international commitments made by the previous authorities, including the $3 billion debt to Russia, after President Poroshenko dubbed it a "bribe" to Viktor Yanukovich.
"In the first place, we are expecting some kind of explanations on whether the current Ukrainian authorities are planning to reject their status as a successor in terms of the country's commitments, including international, and, primarily for us, financial and other obligations to Russia," Kremlin spokesman Dmitry Peskov told reporters in Moscow.
"If we are talking about the legitimacy of power in Ukraine, the question [on the table] is whether it is challenging the principle of succession of Ukraine as a state: does Ukraine carry its international obligations or does it refuse them?" he said.
If the $3 bln loan was a bribe, as Mr Poroshenko says, then the billions from the IMF is grand larceny https://t.co/nEVX5rmjjo

— Dmitry Medvedev (@MedvedevRussiaE) June 15, 2015
"We still don't have an answer to this question, and, frankly, I don't know whether President Poroshenko's statement could be considered the answer," Peskov said referring to Poroshenko's recent remark made to Bloomberg TV on Monday.
In the interview Poroshenko called the $3 billion Russian loan to his country in 2013 a "bribe" to his ousted predecessor Viktor Yanukovich. He alleged that the credit was given in exchange for the refusal to sign the Association Agreement with the European Union.
"That was a bribe," Poroshenko said speaking to Bloomberg in Kiev. "Ukraine will demonstrate responsible behavior. This is the responsibility of the Finance Ministry and the government."
READ MORE: Ukraine to get new IMF loans despite inability to repay private lenders
Following the Maidan protests that toppled Yanukovich in February 2014, the new Ukrainian authorities have been struggling with the shrinking economy by taking international loans.
The total debt of Ukraine, according to the country's Prime Minister Arseny Yatsenyuk, is estimated to be at around $50 billion, of which $30 billion is external debt and $17 billion is internal debt.
On Thursday, Ukraine's Finance Minister Natalie Jaresko said that Ukraine could stop repaying sovereign debts to its lenders within weeks if no deal is struck on debt restructuring soon. She added that creditors must make concessions, as the debts are the result of deals made with the previous 'dictatorship' government.
You can share this story on social media: