Kiev acknowledges $3bn debt to Russia along with other Eurobonds - finance minister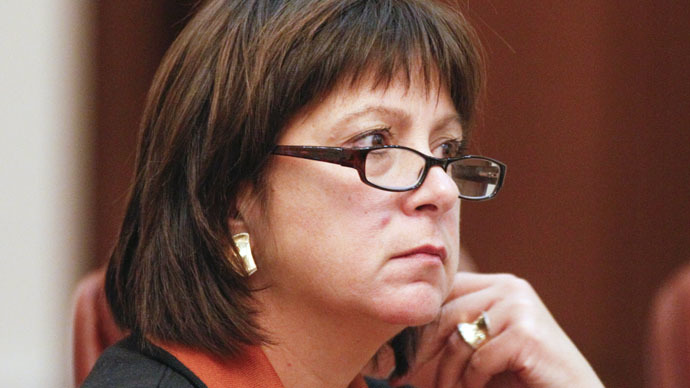 Kiev recognizes its $3 billion loan from Russia along with any other Eurobonds, but wants to restructure it, said Ukraine's Finance Minister Natalia Jaresko. President Poroshenko earlier called the loan a Yanukovich regime "bribe".
"We acknowledge this loan of $3 billion as well as any other European obligations. I don't hide our intentions to restructure this loan. I'm doing everything I can," Ukraine's Finance Minister Natalia Jaresko said during a speech at a Swedish-Ukrainian business forum, RIA Novosti reported Tuesday. Ukraine's government clearly states its position, she added, saying they have plenty of programs and need to reach a goal of debt restructuring.
READ MORE: Debt commitment or 'bribe'? Moscow, Kiev in war of words over $3bn loan
Jaresko's statement comes after the Kremlin asked to clarify whether Kiev was going to honor international commitments made by the previous authorities, including the $3 billion debt to Russia. The question arose as Ukraine President Petro Poroshenko told Bloomberg TV the $3 billion Russian loan to his country in 2013 was a "bribe" to his ousted predecessor Viktor Yanukovich. He alleged the credit was given in exchange for the refusal to sign the Association Agreement with the European Union.
"If someone believes that it was a bribe given to Yanukovich to ensure he'd refuse to sign the Association Agreement with the EU, then maybe all the funds allocated by other lenders and investors can be considered bribes for signing this agreement," Russian president Putin said Tuesday, commenting on Poroshenko's interview with Bloomberg.
The Russian leader added that Moscow has the right to request the debt repayment instantly, but makes allowances for the complex situation in the war-torn Ukraine.
Last week Finance Minister Jaresko said Ukraine could stop repaying sovereign debt within weeks if no deal is struck soon. Kiev is currently struggling to restructure its debt of over $50 billion. It will get a $17.5 billion IMF aid unlocked if manages to put in place savings of $15.3 billion over 4 years.
READ MORE: Ukraine 'blackmails' creditors with moratorium on debt repayment
This month Russian Deputy Finance Minister Sergey Storchak warned Ukraine' s failure to meet a scheduled $75 million interest repayment to Russia on June 22 would mean adefault.Prime Minister Dmitry Medvedev also said that Russia willnotrestructure loans issued to Ukraine and will insist on a tough stance to influence the decision of other IMF members on providing financial aid to Kiev.
The statements came after Ukraine's Parliament had passed a bill allowing a moratorium on foreign debt payments, that was later signed into a law by President Petro Poroshenko. The bill's stated aim was to protect state assets in case of an "attack" from dishonest lenders, and to help the ailing economy out of crisis.
Russia is one of Ukraine's largest creditors and expects Kiev to repay $3 billion by the end of 2015. The total debt of Ukraine is currently estimated at about $50 billion, 71 percent of GDP in 2014. In 2015, the debt will reach 93 percent of GDP, according to the National Bank of Ukraine.